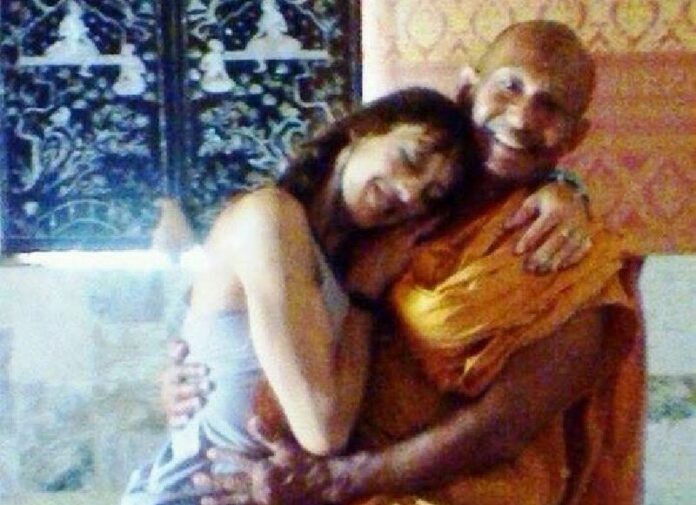 TRAT – The Buddhist authority in Trat province has formally defrocked a monk who was photographed hugging two female tourists on the popular island of Koh Chang last week.
Nitithorn Kawisawan, assistant to a kamnan (local administrator) on Koh Chang island, said the monk, Phra Supot, voluntarily agreed to leave the monkhood last night. He was then formally defrocked by senior monks at Wat Khlong Prao temple.
In a photo that went viral on the internet over the past week, Phra Supot was seen hugging to two foreign women, presumably tourists, who were visiting Wat Khlong Prao temple. The incident took place on 22 November, Nitithorn said.
According to Buddhist practices, monks are not allowed to touch women.
Phra Supot has already left his temple in Koh Chang and returned to his hometown in Udon Thani province, ending his six-year monkhood, Nittithorn said.
"The incident has caused some damage to Wat Khlong Prao temple, but there's only a short-term effect. We don't talk about it anymore," Nittithorn told Khaosod. "Today, the temple hosted a funeral. Many people attended the ceremony, but we don't talk about it."
The former monk did not answer phone calls from our correspondent.
Correction: The original version of this article incorrectly stated that Phra Supot was expelled from his monkhood. However, a local official said the ex-monk agreed to be defrocked on his own.
For comments, or corrections to this article please contact: [email protected]
You can also find Khaosod English on Twitter and Facebook
http://twitter.com/KhaosodEnglish
http://www.facebook.com/KhaosodEnglish