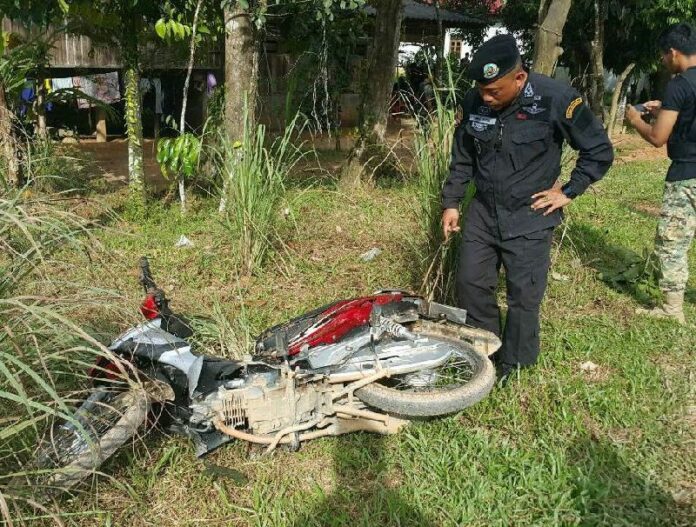 YALA — A twenty-year-old man was shot and killed on his way home from a night patrol in the insurgent-plagued southern province of Yala last night.
Viroj Polpadung, a village security unit guard in Lam Paya district, was shot several times and received a fatal bullet to the head while he was riding home on a motorcycle. Pakorn Suwan, another village security guard who was on the motorcycle with Viroj, was shot and wounded in his left leg.
Police are investigating the incident and believe at least two people were involved in the attack.
Yala and the two neighboring provinces of Pattani and Narathiwat have been battered by near-daily insurgent violence for the past decade.
More than 6,000 people – mostly civilians – have died in the campaign waged by shadowy militant insurgent groups seeking to re-establish the independent Pattani sultanate that was incorporated into modern Thailand in the early 20th century.
For years, Thai authorities have armed local volunteers in the"Deep South" border-provinces to help combat insurgents.
Thailand's military government, which has vowed to bring peace to the region "within a year," has distributed several thousand assault rifles to village defense volunteers since seizing power in the 22 May coup.
Human rights groups have criticised the military's reliance on armed residents, which they say only increases lawlessness and violence in the restive region.
On Monday, junta chairman and Prime Minister Gen. Prayuth Chan-ocha met with the Prime Minister of Malaysia to discuss pursuing Malaysian-broked peace talks with the rebels.
In contrast to the rest of the country, where the vast majority of Thais are Buddhist, the Deep South is dominated by Muslims who speak a Malaysian dialect and often do not consider themselves Thai.