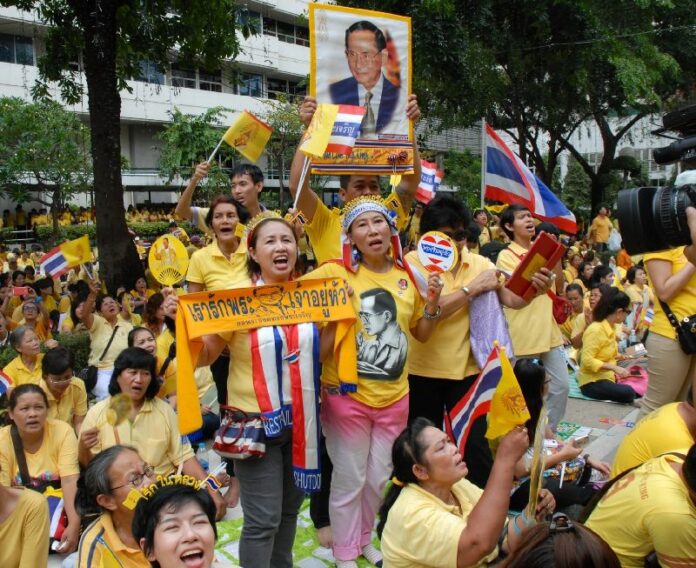 BANGKOK — A hospital employee in the northeastern province of Khon Kaen has been detained by army officers for allegedly insulting the monarchy on Facebook.
Arie Klabsatien, who works for Sri Nakarin Hospital, reportedly offended Thailand's king by posting photos of herself wearing black on 5 December – King Bhumibol's birthday – and mocking supporters of the 87-year-old monarch.
Arie's black attire, which is normally worn in mourning, was considered offensive as the King is currently being treated for several illnesses at Siriraj Hospital in Bangkok. His Majesty has been in poor health for the past few years and was forced to cancel a public appearance on his birthday on the advice of doctors.
Many Thais traditionally wear yellow on 5 December to express their loyalty to King Bhumibol.

Thais celebrate HM the King's birthday on 5 Dec 2014 at Siriraj Hospital in Bangkok.n front of Siriraj Hospital in Bangkok.
According to a report by Manager Online, officers from the Internal Security Operation Command (ISOC) are interrogating Arie and will bring her to police for legal prosecution in the near future.
Manager Online also reported that the director of Sri Nakarin Hospital has formed a committee to investigate the incident.
Arie's Facebook account appears to have been shut down by Monday afternoon.
Criticising the monarchy is punishable by up to 15 years in prison under Section 112 of Thailand's Criminal Codes, a draconian law known as lese majeste.
Last month, a 24-year-old student was sentenced to two and half years in prison for insulting the monarchy on Facebook.
Lese majeste accusations and charges in Thailand have been on the rise since Gen. Prayuth Chan-ocha, a hardline royalist, seized power on 22 May. Gen. Prayuth has also given martial courts jurisdiction over lese majeste cases on the grounds that insulting the monarchy constitutes a threat to national security.
Lese majeste suspects are rarely released on bail while they await trial. A former MP was denied bail for six months before being convicted of lese majeste and sentenced to 30 months in prison on 3 December.
For comments, or corrections to this article please contact: [email protected]
You can also find Khaosod English on Twitter and Facebook
http://twitter.com/KhaosodEnglish
http://www.facebook.com/KhaosodEnglish