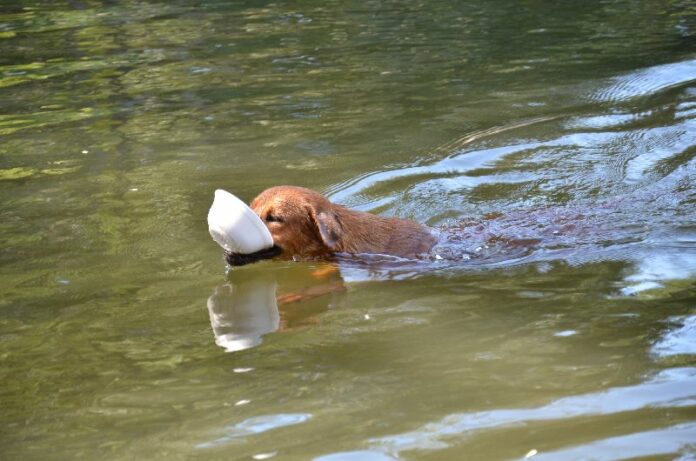 NAKHON RATCHASIMA — A stray dog in the northeastern province of Nakhon Ratchasima has impressed locals by regularly collecting garbage from a temple pond.
According to the temple's abbot, Taan the dog routinely jumps into the pond at Don Kwang Temple in Muang district to retrieve trash floating in the water.
Frequent temple-goer Supit Soonsantia told Khaosod that Taan was abandoned by his owner when he was a puppy two years ago. After that, Taan learned how to swim and began collecting garbage on his own, Supit said.
"He learned all this on his own," Supit said. "No one taught him at all."
He added that the dog will make several trips across the pond until all of the water bottles, styrofoam containers, and leaves have been cleared from the water.
Phra Kru Pariyatti, the temple's abbot, said Taan follows him around the temple "like a shadow."
"He's a intelligent dog that loves cleanliness and the environment," Phra Kru Pariyatti said. "I wish people who like to throw away trash without consideration would learn from Taan. I hope this dog will remind people to maintain cleanliness in public areas."
For comments, or corrections to this article please contact: [email protected]
You can also find Khaosod English on Twitter and Facebook
http://twitter.com/KhaosodEnglish
http://www.facebook.com/KhaosodEnglish