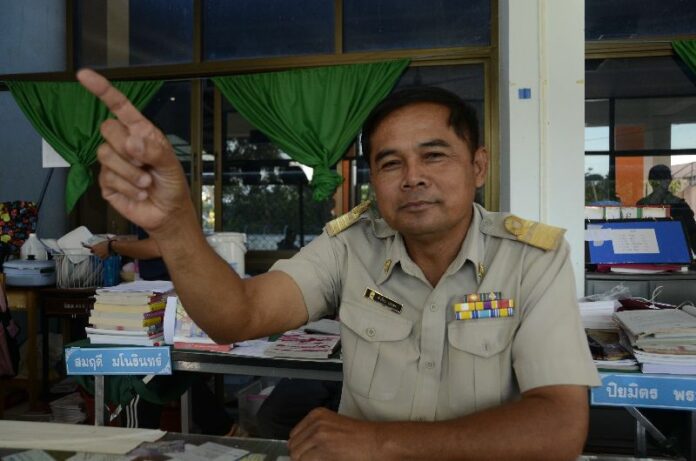 NONG KHAI — A photo of a gym teacher in Nong Khai province has gone viral on social media after a student pointed out the teacher's likeness to Thai junta leader and Prime Minister Prayuth Chan-ocha.
Thai netizens first discovered Khamkian Bantao, 54, after a Twitter user posted an image (below) comparing Khamkian to Gen. Prayuth with the caption, "Does my teacher look like Uncle Prayuth?"
The photo has been "retweeted" nearly 10,000 times since it was posted on 4 December.
Khamkian, who teaches physical education at Pathumthep Witthayakarn School, said today that he saw a student taking photo of him on the morning of 4 December but did not think much about it.
"But on the next day, my friends, my kid, and my kid's friends kept phoning me and teasing me that I am now a superstar because someone posted a photo of me and said I looked like Gen. Prayuth," Khamkian told Khaosod. "I don't even know why people think I look like him!"
Khamkian added that students and teachers at his school have been commenting his resemblance to Gen. Prayuth for several months already.
"Nowadays, people ask me to pose for photos and ask for my autographs. When I ride my bicycle to buy food after school, the vendors also say I look like him [Gen. Prayuth]," Khamkian said.
When asked whether he had any message for the junta chairman, Khamkian replied, "I hope he will devote himself to working for the people."
Ratchanee Jintawech, another gym teacher at Pathumthep Witthayakarn School, said when fellow teachers and students tease Khamkian for his resemblance to Gen. Prayuth, the gym teacher sometimes obliges them by imitating the Prime Minister's hand gestures and speech patterns.
"When he walks or points his fingers at the students, they look so alike," Ratchanee said. "But Kru (teacher) Khamkian is in fact a very cheerful man who smiles all the time."
Gen. Prayuth, meanwhile, is known for his bad temper and aggressive relationship with reporters. Once, the general threatened to throw the podium at a reporter who asked whether he planned to run in the next election.
Gen. Prayuth seized power in the 22 May coup and was chosen as Prime Minister in August by a rubber-stamp parliament whose members he handpicked.
For comments, or corrections to this article please contact: [email protected]
You can also find Khaosod English on Twitter and Facebook
http://twitter.com/KhaosodEnglish
http://www.facebook.com/KhaosodEnglish