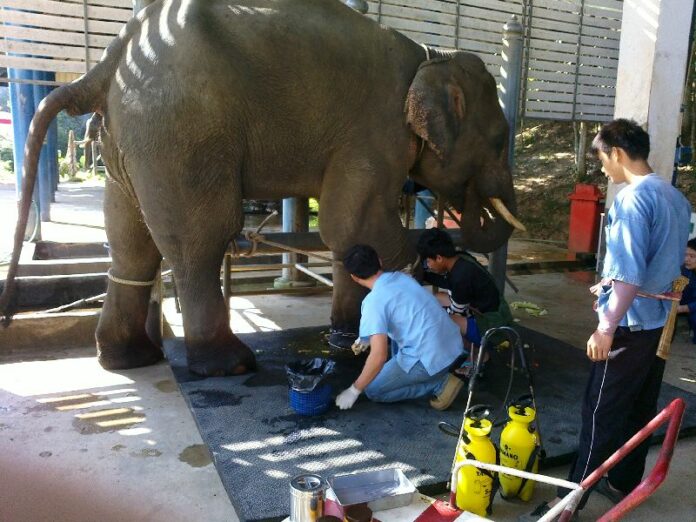 TAK — Medical workers have come to the aid of an elephant that stepped on a land mine along Thai – Myanmar border in northern Thailand.
Plai Puu Cha, 17-year-old elephant, was helping construction workers build a reservoir in Tak province when he accidentally stepped on one of thousands of land mines buried along the border between Thailand and Myanmar.
The elephant's owner, Arkom Kiricharoen, said it took reservoir workers six days to transport the elephant from the far-flung construction site to an elephant hospital in Lampang province operated by the Thai Elephant Conservation Center.
Elephants are routinely used as draft animals in northern Thailand's mountainous regions.
Sitthidej Mahasawangkul, the director of the elephant hospital, said medical workers have been working to heal the infection in Plai Puu Cha's right leg since the elephant was admitted to the hospital on 10 December.
Sitthidej said the elephant suffered "extensive damage" and bleeding, but added that the blast did not seem to affect his bones. Plai Puu Cha will be able to leave the hospital "seven months from now," he told reporters.
"He's still a young elephant, so we are not that worried about his recovery," Sitthidej said.
Eighteen of Thailand's border provinces are lined with unexploded land mines, according to the data released by Thailand Mine Action Centre, a governmental task force dedicated to clearing the mines.
Many of the devices are concentrated along Thai-Myanmar border, with one estimate indicating that 70 percent of the two countries' borderline is covered by mines.
The mines were planted by a variety of armed forces during the brutal wars between the Burmese army and ethnic minority groups over the past 60 years.
Thousands of people have been killed and maimed by the landmines, including a number of animals. In 2011, eighty-four people were killed by mines along the Thai-Myanmar border, CCTV reported last year. The latest documented case of elephant killed by the land mines occurred in September 2011.