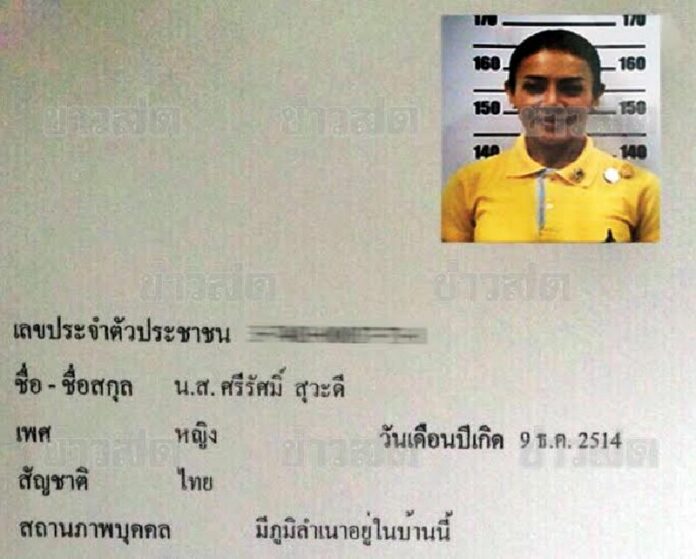 BANGKOK — The wife of the Crown Prince of Thailand has not been granted any honourary titles after she rescinded her royal status late Friday night, official records have confirmed.
Srirasmi, who married Crown Prince Vajiralongkorn in 2001, resigned from her status as a member of the Royal Family following the recent arrests of many of her relatives are charges of corruption and lese majeste.
Although many Thai media agencies reported that Srirasmi has been bestowed an honourary title of Thaan Pu Ying (roughly equivalent to Baroness or Lady), official documents obtained by Khaosod identify her simply as Ms. Srirasmi Suwadee.
Her commoner status was registered to the state database today after Srirasmi visited a district office in Bangkok to apply for a new national ID card. Photos of her smiling throughout the procedure have been posted and shared widely on social media.
Srirasmi's new home address is registered in Ratchaburi province, indicating that she has moved out of the Crown Prince's royal palace in Bangkok. An official added that Srirasmi will return all of her royal decorations to Crown Prince Vajiralongkorn.
The palace did not identify the reason for Srirasmi's decision to shed her royal status, but the announcement came a week after the Crown Prince stripped several of her family members of their royally bestowed surname, presumably in response to the ongoing scandal involving her relatives.
There is no clarification from the Royal Household Bureau so far about the status of the 9-year-old son of Crown Prince Vajiralongkorn and Srirasmi, Prince Dipangkorn Rasmijoti.
For comments, or corrections to this article please contact: [email protected]