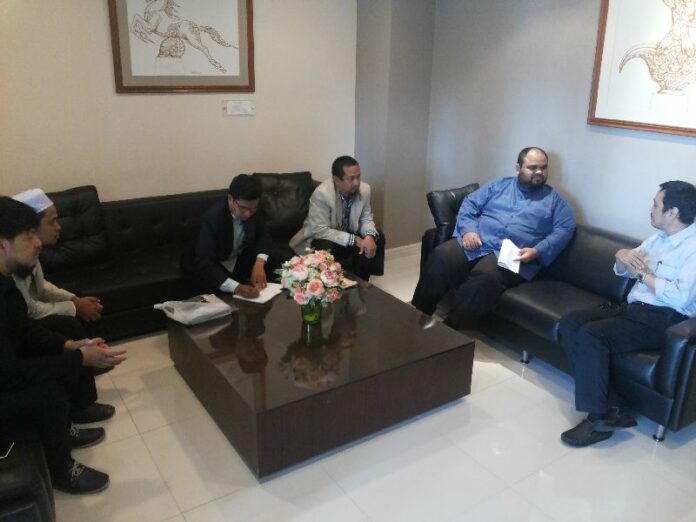 BANGKOK — A Muslim advocacy group has protested Khaosod newspaper's recent coverage of atrocities committed by Islamic State fighters in the Middle East.
On 14 December, the international section of Khaosod's Thai edition published a story about guidebooks that were reportedly distributed by IS fighters in Mosul, an Iraqi city now under IS control. The books, titled "Question and Answers on Female Slaves and their Freedom," allegedly permitted IS militants to have sex with kidnapped women and sell them as slaves.
According to the report, which was first published by CNN, IS leadership attempted to justify its ill treatment of female prisoners by citing the Quran, the holy book of Islam.
However, Muhammad Faosi Yaena, sec-gen of Federation of Thai Muslim Media, met with a Khaosod editor yesterday to condemn the report, which he said may mislead the public about the "true" teaching of Islam.
Yaena, who was accompanied by other representatives of the Federation, filed a formal complaint yesterday explaining that IS practices are not recognised by Islamic principles.
"The IS may want to amend what was said in the Quran, but it cannot be done, because it is against the principle of [Islam]," Yaena told Khaosod. "Also, their violation of humankind is unacceptable."
He continued, "We are not here today to say whether IS is a legitimate group. We are here because of Islam. We want to clarify that IS's [actions] are wrong."
Yaena also questioned the authenticity of CNN's coverage about the IS fighters use of sex slaves in occupied territories, which span a significant portion of Iraq and Syria.
"If a person reads the news closely, they will know that Islam can never allow such practice," Yaena said. "But if the reader doesn't read it closely, they may misinterpret it, and it will mislead people into thinking that Islam is about violence. Therefore, any news that touches on the religion should include quotes from experts or scholars to prevent any misunderstanding."
The Federation also demanded Khaosod's Thai edition refrain from associating IS with Islam in any way. Khaosod's Thai edition, which maintains a separate editorial board from Khaosod English, complied with the request and will now refer to IS as "an armed group known as the Islamic State," instead of "a radical Islamic group known as the Islamic State."
These new measures do not apply to Khaosod English.
In July, the group also protested reports in Daily News – one of the biggest newspapers in Thailand – that allegedly "sided with the Israeli Jews" in "unethical" coverage of the Israeli invasion in Gaza Strip earlier this year.
A Daily News executive publicly apologised and promised to remove any "offensive" articles. According to a post on the Federation's Facebook, Daily News editors also agreed to consult "credible sources about the Middle East" and allow the Federation to regularly publish articles in the newspaper.
The Federation says it also prompted a Thai publishing house to apologise last month for publishing a novel based in the Middle East that allegedly "used an inappropriate name for a character."
Muslims make up approximately 5 percent of Thai population, which is largely Buddhist. A majority of Muslims in Thailand practice the faith of Sunni sect, and are formally represented by the Shayk-al-Islam Office.
For comments, or corrections to this article please contact: [email protected]