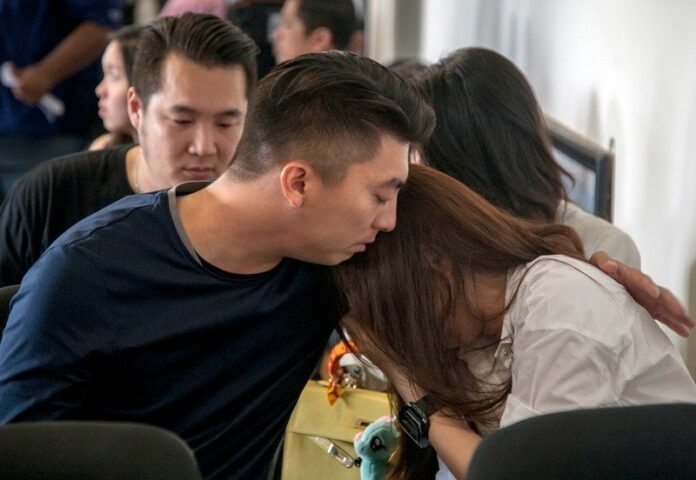 Jakarta (dpa) – Searchers scoured land and sea Monday for an AirAsia plane missing in Indonesia with 162 people on board, officials said.
AirAsia Indonesia flight 8501 disappeared from radar over the Java Sea after takeoff from Surabaya in East Java en route to Singapore on Sunday morning.
"Our suspicion for now is that the plane is at the bottom of the sea based on the last coordinates of the plane detected by the radar," Indonesia's National Search Agency chief Bambang Sulistyo said.
"If it is at the bottom of the sea, we will have difficulty locating it because our equipment is not adequate," he said referring to specialized sonar technology to detect objects lying on the sea floor.
He also said Indonesia might need help from countries such as France, Britain and the United States to provide a semi-submersible ship to lift any wreckage of the aircraft.
Bambang said the search area had been expanded to include Bangka-Belitung Islands and the western part of West Kalimantan province, on the island of Borneo.
Dozens of ships, boats and aircraft were involved in the operation, he said.
Singapore and Malaysia each deployed C-130 Hercules transport aircraft and three ships, he said.
Indonesia's National Transport Safety Committee chief Tatang Kurniadi said investigators from aircraft maker Airbus had arrived in Indonesia to help with the probe.
The European Aviation Safety Agency had also offered to assist, he said.
"Right now we don't have significant information about the aircraft," he said.
The Airbus A320-200 last made contact with air traffic control in Jakarta to request permission to ascend to an altitude of 38,000 feet from 32,000 feet to avoid bad weather, the Transportation Ministry said.
AirAsia said 155 of the people on board were Indonesians. The others included three from South Korea, and one each from Singapore, Malaysia, France and Britain.
The company said the pilot, an Indonesian named Iryanto, had 20,537 flying hours, 6,100 of which logged with AirAsia.
The co-pilot was a French national with 2,275 flying hours, it said.
Relatives of the passengers flocked to Surabaya's Juanda airport to hear news about their loved ones.
Intan, said her brother, his wife, their baby and babysitter were on the plane.
"Our hope is that the government will update us with the latest information and not cover up anything," Intan told TVOne broadcaster.
Bambang Andreas said his daughter, a tour guide, was a passenger.
"It was one of her frequent overseas trips," he was quoted as saying by the Detik.com news website.
AirAsia, based in Malaysia, has an "above average" safety record, said aviation expert and former Indonesian Air Force chief Chappy Hakim.
"AirAsia has an excellent safety culture," he said. "This is probably the first major incident involving AirAsia."
AirAsia chief executive Tony Fernandes said the airline had carried 220 million passengers since it began operating 13 years ago.
"Until today, we never lost a life," he said.
The flight's disappearance is the third air travel disaster this year linked to Malaysia.
Malaysia Airlines flight MH370 carrying 239 people vanished almost without a trace on March 8, one hour after departing Kuala Lumpur for Beijing.
On July 17, Malaysia Airlines flight MH17 went down over rebel-held territory in eastern Ukraine, killing all 298 passengers and crew on board the flight from Amsterdam to Kuala Lumpur.
For comments, or corrections to this article please contact: [email protected]