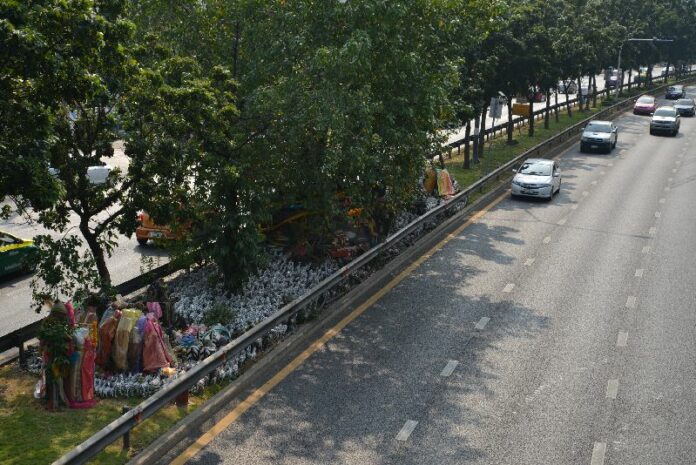 BANGKOK — Officials at the Bangkok Metropolitan Administration (BMA) say they will go ahead with plans to remove offerings to "ghosts" on Ratchapisek Road, despite locals' claims that the offerings are needed to ward off a supernatural curse.
Supit Kraimak, director of Chatuchak District Office's Department of Public Cleanliness, said the BMA will remove the hundreds of zebra dolls and bottles of red-colored soda blocking pedestrian pathways on the flyover bridge above Ratchadapisek Road. Some bottles of soda have also spilled onto the road below, he said.
The zebra dolls and soda bottles were placed there by local residents who believe the offerings will appease malevolent spirits that are said to inhabit the area. According to local belief, the spirits are responsible for the many accidents on Ratchadapisek Road.
The sacred site also extends to a large Bo tree in the middle of the road. Many believers have crossed the road and risked being hit by oncoming cars to plant their offerings by the tree.
"We will use a large truck to transport all these items to dump in a [landfill] because we don't know what else we can do with them," Supit was quoted as saying by Thai Rath newspaper. "I don't want to disrespect any belief, and I am not afraid of any curse. I just have to perform my duty."
But Supit admitted that many of the district office's cleaning staff are reluctant to participate in the operation because they are afraid of the curse.
"They want us to summon necromancers or mediums to organize a ceremony to appease the spirits. I am consulting with my supervisors about that," Supit said.
For comments, or corrections to this article please contact: [email protected]
You can also find Khaosod English on Twitter and Facebook
http://twitter.com/KhaosodEnglish
http://www.facebook.com/KhaosodEnglish