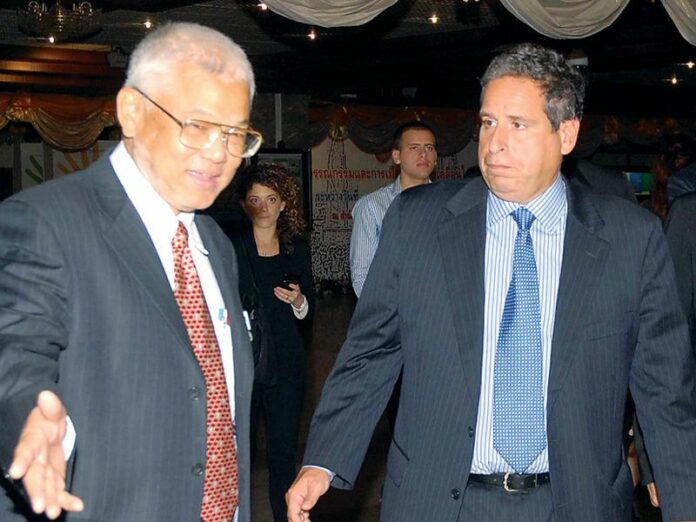 BANGKOK — The Canadian lawyer who was hired by former Prime Minister Thaksin Shinawatra to represent the Redshirt movement says his engagement with the former leader has terminated.
A press release published on Robert Amsterdam's website on 2 January 2014 states:
"Amsterdam & Partners LLP was first retained in April of 2010 by the former Prime Minister Thaksin Shinawatra to defend the rights of the Red Shirt pro-democracy movement….However following a military coup last May which toppled the elected government, conditions for human rights have sharply deteriorated, and the engagement between Robert Amsterdam and former Prime Minister Thaksin has concluded."
According to the statement, Amsterdam has launched a new campaign aimed at bringing criminal charges against "the coup leadership and those responsible for the 2010 Bangkok massacre." The effort will be conducted on a pro bono basis, independent of any active political figures or parties in Thailand, the press release says.
"We are grateful to Khun Thaksin for the opportunity to become involved in these issues, and wish him the best in his endeavours," the statement says. "Our focus now will be to pursue alliances with civil society, NGOs, and other politically independent groups to continue advocating for the rights of citizens through all available avenues."
Amsterdam and his international law firm Amsterdam & Partners LLP were first retained by Thaksin to represent the umbrella organization of the Redshirts, the United Front of Democracy Against Dictatorship (UDD), following the 2010 military crackdown on Redshirt protesters that left more than 90 people dead, mostly civilians.
Since 2010, Amsterdam has been pushing for the International Criminal Court (ICC) to prosecute former Prime Minister Abhisit Vejjajiva for allegedly committing a crime against humanity by authorizing the crackdown on Redshirt protesters. The ICC has yet to take up the case.
Noppadon Pattama, a legal adviser and spokesperson for Thaksin, confirmed today that Amsterdam is no longer working for the former leader.
"The contract has expired, and there is no renewal of the contract, because there is no particular work or agenda at the moment," Noppadon said. "Let me stress that there is no dispute between [Thaksin and Amsterdam]."
Although Thaksin was deposed in a military coup in September 2006 and has been living in exile since 2008 to avoid a corruption conviction, the former Prime Minister still retains significant influence as the de facto leader of the Redshirt movement.
While Redshirt supporters hail Thaksin as a champion of the poor, many rival Yellowshirt activists in Thailand consider the former leader a corrupt tyrant who posed a threat to the Thai monarchy.
In April 2014, Yellowshirt activist Thaworn Senniam filed a complaint with Thai police accusing Amsterdam of committing lese majeste (insulting the monarchy) during one of his Skype calls to a Redshirt rally that month.
In the Skype call, which was broadcast to demonstrators and translated into Thai by an assistant, Amsterdam urged Thai authorities to amend the lese majeste law, which criminalizes defaming the monarchy by up to 15 years in prison.