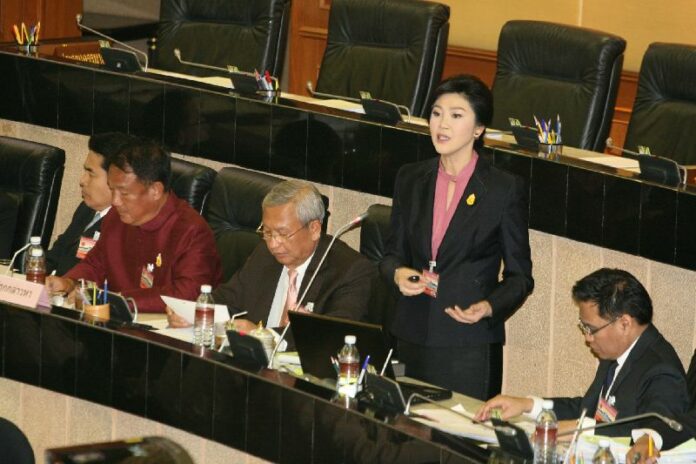 BANGKOK — A cabinet minister from former Prime Minister Yingluck Shinawatra's administration has asked the chairman of the junta-appointed legislature to apologize for referring to him as a "hired gun" yesterday.
Kittirat Na Ranong, who headed the Ministry of Finance from January 2012 to May 2014, is set to testify on behalf of Yingluck during her impeachment hearing before the National Legislative Assembly (NLA), a lawmaking body appointed by the junta after the 22 May 2014 coup.
Speaking at a press conference yesterday, NLA chairman Pornpetch Wichitcholchai said Yingluck should appear before the impeachment committee herself, instead of sending representatives like Kittirat to speak for her.
"If [Yingluck] sends hired guns to answer for her, how will that be credible?" Pornpetch said. "What's the point of coming? Who will want to hear anything about that? We won't know anything. It won't be credible."
The comments came only hours after the chairman warned other NLA members against expressing "personal feelings" about the case.
"According to regulations, NLA members cannot express opinions that could be seen as biased against or in favour of any individual," Pornpetch said earlier that day.
Today, Kittirat demanded Pornpetch apologize for the "hired guns" remark.
"It's inappropriate," Kittirat said. "He didn't speak like a lawyer and chairman of the lawmakers. He should apologize."
The former minister also insisted that he is qualified to testify on behalf of Yingluck, who is facing impeachment for allegedly failing to stop corruption in her government's rice-pledging scheme, which reportedly cost the state more than 500 billion baht.
"I was directly and indirectly responsible for the national economic administration, and my work includes the rice-mortgage program," Kittirat said. "I know enough about the allegation that I can answer any inquiries. I have legal rights to speak to the NLA committee on behalf of the accused."
Yingluck appeared before the NLA on 9 January to defend herself against the accusations filed the National Anti-Corruption Commission (NACC). The NLA is scheduled to vote on the impeachment on 23 January. If found guilty, Yingluck will be banned from politics for up to five years.
The NLA will also vote on the possible impeachment of two members of Yingluck's government who spearheaded an attempt to amend the 2007 constitution to make the Senate fully-elected.
Many of Yingluck's supporters view the impeachment effort as a politically-motivated attempt to punish the former Prime Minister and bar her from the next election, which is expected to be held in 2016.