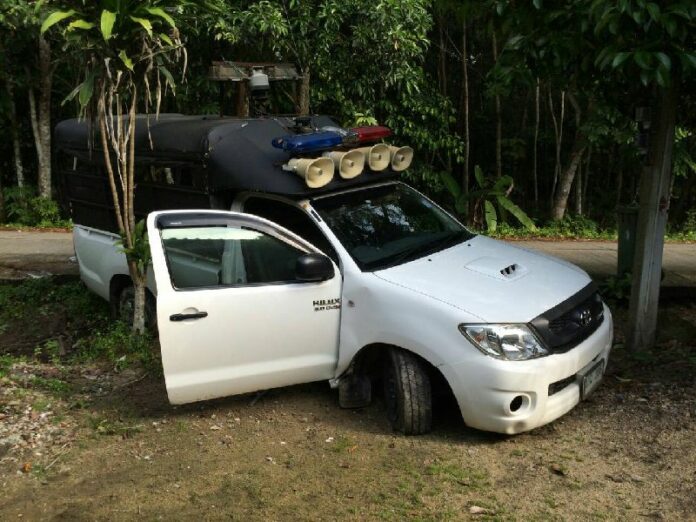 NARATHIWAT — A teacher was injured by a roadside bombing this morning in the southern province of Narathiwat, where separatist insurgents have been waging a bloody campaign against Thai security forces for the past decade.
Police say the IED went off on a road in Baco district at around 8:30 am, while public school teacher Somjit Wongketchai and her bodyguards were passing through the area.
The blast reportedly damaged the vehicle that Somjit was riding in, and she was "slightly injured" by the explosion, medical workers at Bue Cho Hospital say.

Damage caused by the blast, Narathiwat province, 19 Jan 2015.
Security officers believe the attack was launched by Islamic insurgents who have been battling Thai authorities in the southern border provinces of Narathiwat, Yala, and Pattani since 2004. The separatists aim to revive the independent sultanate of Pattani, which was incorporated into modern-day Thailand in the early 20th century.
More than 6,000 people, mostly civilians, have been killed in the simmering conflict over the past decade, according to data compiled by rights groups. The insurgents regularly target public schools and teachers, presumably because they are viewed as "instruments" of the Buddhist state.
Nearly 200 teachers have been killed in the region, known as the Deep South, since 2004. Many teachers now travel with a large convoy of bodyguards and soldiers.
Police say it is the third time Somjit was targeted by insurgents. In 2014, her convoy was bombed in Bacho and Saiburi districts, police say.
According to official data, there are 5,640 public school teachers in Narathiwat province. Three hundred of them have requested "relocation" this year, citing fears for their safety, officials told Manager ASTV on 16 January.