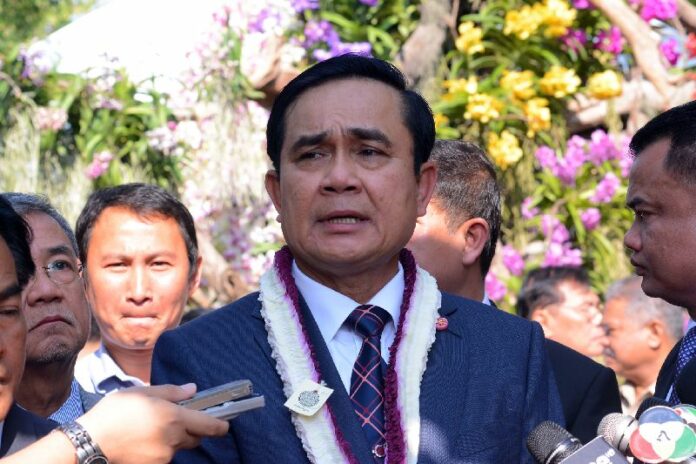 BANGKOK — Thai junta chairman and Prime Minister Prayuth Chan-ocha says he has sent a letter of protest to the United Nations' refugee agency for reportedly helping a lese majeste suspect flee Thailand.
According to The New Zealand Herald, Ekapop Luara, aka Tang Acheewa, was assisted by the United Nations High Commissioner for Refugees (UNHCR) in his escape from Thailand to Cambodia shortly after the military staged a coup on 22 May 2014.
Speaking to reporters today, Gen. Prayuth said he has already sent a letter of protest to the UNHCR for its alleged role in helping Ekapop escape.
"They claim it's an assistance based on humanitarian aspect, so what can I do?" Gen. Prayuth said.
Ekapop, 23, is wanted by Thai authorities for allegedly insulting the Thai monarchy, a crime punishable by up to 15 years in prison under Section 112 of Thailand's Criminal Codes. He posted on his Facebook several weeks ago that he is now living in New Zealand, claiming to have been granted asylum by NZ authorities. His Facebook account has since been deactivated.
After the New Zealand Herald report spread across social media, aided by a translation to Thai that appeared on the right-wing Thai newspaper Naew Na, a number of royalists in Thailand started advocating a boycott of the UNHCR for allegedly helping the "anti-monarchy" suspect.
The campaign, which appears to be coordinated by several Facebook pages, has urged Thais to refrain from donating to the UN agency. Some Thai commentators claim to have already ceased their monthly donations to the UNHCR.
However, Gen. Prayuth said today that he disagrees with the royalists who withdrew their donations to the UN refugee agency.
"They have to realize that it's a different matter," Gen. Prayuth said. "The UNHCR's donations are used to help people around the world, not only Mr. Tang [Ekapop]."
He also told reporters that the Ministry of Foreign Affairs has sent letters of protest to "7-8 countries" that are believed to be harboring Thai lese majeste suspects. According to Gen. Prayuth, none of those foreign governments have responded to the letters.
"They haven't given us any answer, so we can't do anything about it, because we are not strong enough to fight the entire world," Gen. Prayuth lamented. "We should wait until we are the superpower first before we think of doing anything like that."
On 6 January, the Thai Ministry of Foreign Affairs summoned a diplomat from the New Zealand Embassy in Bangkok to express its concern over reports that Ekapop is residing in New Zealand.
The MFA also asked the New Zealand authorities not to allow anyone who violates Thai laws to use its country as a base for political activities.
The New Zealand Embassy in Bangkok has not responded to Khaosod English's requests for comment.
Since the 22 May 2014 coup, the prosecution of lese majeste suspects has risen considerably. Gen. Prayuth, considered a hardline royalist, has also granted military courts – which do not permit appeals – jurisdiction over lese majeste cases.
Among those currently facing prosecution are two theatre activists accused by the military of insulting the Royal Family through a play about a fictional monarch in October 2013. The two activists have been held in prison since they were arrested last August, with the court repeatedly denying their requests for release on bail.
The growing persecution has forced a number of activists and academics to flee Thailand and seek asylum in foreign countries. Apart from Ekapop, other notable exiles include transgender activist Saran Chuichai and historian Somsak Jeamteerasakul, who say they are living in France, as well as Pavin Chachavalpongpun, a political science scholar who lives in Japan.