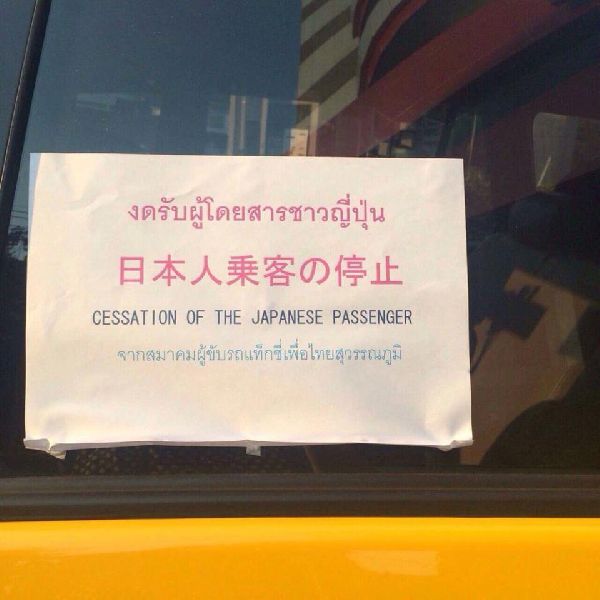 BANGKOK — A taxi association at Bangkok's international airport has condemned a cabbie who is reportedly refusing to take Japanese passengers, one day after a Japanese man made headlines with his rant against a driver who refused to turn on his meter at the airport.
A photo (below) widely shared on social media this morning shows a sign posted on a taxi window in English, Japanese, and Thai. The Thai text reads: "No picking up of Japanese passengers."
The notice ends with the text, "From: Association of Suvarnabhumi Airport's Taxi Drivers."
The photo surfaced a day after airport authorities fined a taxi driver 1,000 baht and banned him from picking up passengers at Suvarnabhumi Airport for trying to overcharge a Japanese man. The punishment was carried out after the Japanese man's harsh rebuke of the cab driver, who reportedly demanded a flat-rate of 700 baht for a ride to Bangkok's Saphan Kwai district, went viral on social media.
However, Sadit Jaitiang, director of Association of Suvarnabhumi Airport's Taxi Drivers, told Khaosod in a phone interview that he had nothing to do with the notice, and only found out about the sign from social media today.
"I have not seen the sign with my own eyes, but I have seen photos of it. Let me stress that the Association is not related to such notice in any way," Sadit said. "Taxi drivers cannot be picky. We cannot choose to take or refuse passengers of certain nationalities. If we do that, we won't have any money. We have to take care of our families."
Sadit said he is looking into who is responsible for sign, and will hold that person accountable if he or she is a member of the airport taxi association.
"As the director of the Association, I condemn this action. The Association wholeheartedly disagrees with it. We are working to find out which driver put up the sign. If we discover that one of our members indeed put up the sign, that person will be held responsible," Sadit said.
Hundreds of Thai internet users have vented anger at the "No Japanese" sign, with some accusing the taxi driver of racism, discrimination, and refusing to obey the regulation. Others have jokingly commented that the driver should stop using a Japanese car.
Read more:
Online Complaint Prompts Ban of BKK Airport Cab Driver
You can also find Khaosod English on Twitter and Facebook
http://twitter.com/KhaosodEnglish
http://www.facebook.com/KhaosodEnglish