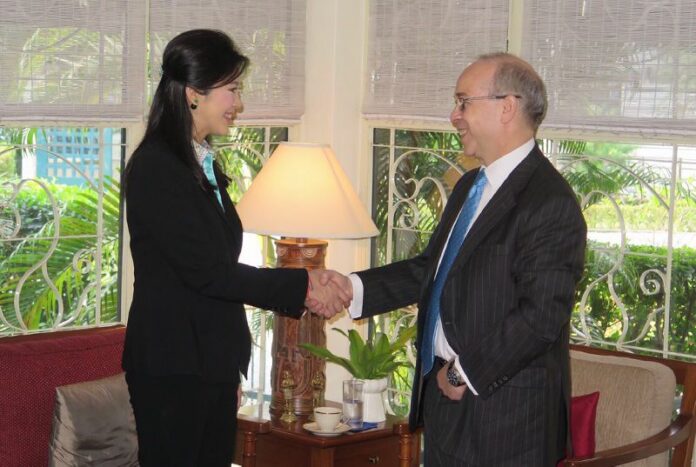 BANGKOK — Thailand's military government has summoned the head of the United States Embassy after a senior US official criticized the junta's use of martial law and called for a return to democratic rule in Thailand.
The Deputy Minister of Foreign Affairs, Don Paramatwinai, said today that the US Charge d'Affaires to Thailand, W. Patrick Murphy, has been summoned to discuss a keynote speech given by a top US State Department official on Monday.
A spokesperson from the US Embassy in Bangkok said a statement on the summons is forthcoming.
In the talk, Daniel Russel, the US Assistant Secretary of State for East Asian and Pacific Affairs, called upon the Thai military to repeal martial law and all restrictions on freedom of expression. He insisted that the US was not taking sides in Thai politics, but raised concerns over the impartiality of the impeachment of former Prime Minister Yingluck Shinawatra by the junta's interim lawmaker body last week.
"When an elected leader is removed from office, is deposed, and then impeached by authorities — the same authorities that conducted the coup — and then when a political leader is targeted with criminal charges at a time when the basic democratic processes and institutions in the country are interrupted, the international community is going to be left with the impression that these steps could in fact be politically driven," Russel said to a crowd at Chulalongkorn University in Bangkok. (Read the full speech here).
According to the Thai Deputy Minister of Foreign Affairs, Russel's remarks caused many Thais to be "worried and disappointed."
"Mr. Russel spoke about politics, instead of using the opportunity to speak about good things, especially topics that promote the relationship between Thailand and the United States," said Don, who used to serve as Thailand's ambassador to Washington DC. "The aforementioned speech did not benefit anyone. It became news that negatively affected the reputation of the country. It is deeply disappointing. It is an interference in Thailand's politics."
Don added, "The impeachment of Ms. Yingluck is not a political issue. It was done through judicial procedures. The United States does not understand Thailand's political situation."
Former PM Yingluck was retrospectively impeached and banned from politics for five years last Friday by the National Legislative Assembly, whose members were handpicked by the ruling military junta that toppled her government on 22 May 2014.
The lawmakers accused Yingluck of failing to stop corruption in her administration's rice-pledging policy. On the morning that Yingluck was impeached, the Attorney-General also announced plans to pursue criminal charges, carrying a maximum 10 year sentence, against her in connection with the rice scheme.
In response to the US envoy's call for the repeal of martial law, Don insisted that a majority of Thais are not affected by the law, which grants the military sweeping powers to curb freedom of speech and assembly. Since seizing power, the junta has invoked martial law to ban public protests, detain individuals without charges or a court warrant, and try detractors in martial courts where appeals are not permitted.
"If we comply with the [US] and lift martial law and it leads to problems, how will those people who are asking for the lifting of martial law take responsibility?" Don said. "In reality, Thais don't even know there is martial law. A majority of Thais accept it and are not worried by it. The people who are worried about it are the minority."
He also claimed that the military coup on 22 May 2014 was not a coup after all.
"I insist that the military takeover in Thailand is not a coup, theoretically speaking," he said. "It was in fact a revolution to install stability."
During his visit to Thailand, Russel, the highest-level US official to visit Thailand since the coup, met with former PM Yingluck, former PM Abhisit Vejjajiva, and Minister of Foreign Affairs Thanasak Patimapakorn, but did not meet with Thai junta chairman and Prime Minister Prayuth Chan-ocha.
Related coverage:
Yingluck Discusses 'Unfair' Impeachment with Top US Diplomat
Prayuth Shrugs Off 'Snub' By US Diploma
In Meeting With US Diplomats, Democrats Blame Thai Crisis on Corruption