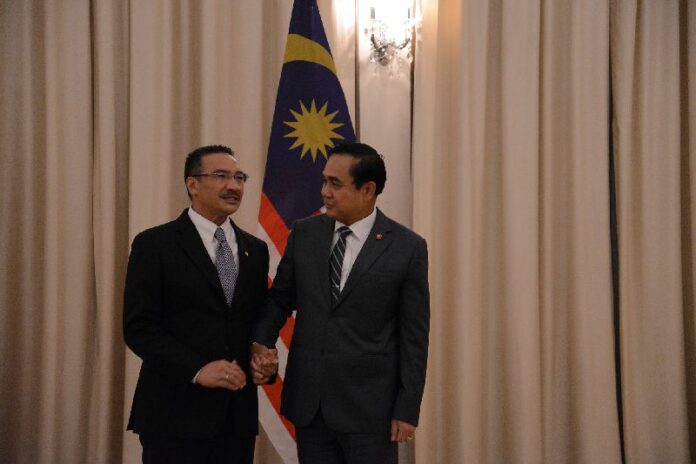 PATTANI — Thailand's southern border provinces have seen a surge in violence in recent days, following the arrival of senior Malaysian officials in Bangkok to discuss the insurgent violence with Thailand's military government.
Hishammuddin Hussein, the Malaysian Minister of Defense, has met with Thai government officials, including Prime Minister Gen. Prayuth Chan-ocha, over the past two days to discuss the insurgency in southern Thailand, a spokesperson of the Thai Ministry of Defense said.
Islamic insurgents have been battling Thai authorities in Narathiwat, Yala, and Pattani provinces – a region known as the Deep South – since early 2004. The separatists aim to revive the independent sultanate of Pattani, which was incorporated into modern-day Thailand in the early 20th century.
In contrast to the rest of the country, which is dominated by Buddhists, a majority of those living in the Deep South are Muslims who speak a Malaysian dialect.
More than 6,000 people, mostly civilians, have been killed in the simmering conflict over the past decade, according to data compiled by rights groups.
The latest incident of violence in the Deep South occurred at around 1:30 am today, when a group of gunmen opened fire at a police patrol in Pattani province, killing one police officer and wounding three others. One of the wounded police officers said his team was ambushed by the gunmen, who were hiding in a forest near the road.
Security officers found at least 48 bullet cases near the crime scene.
The day before, four civilians were shot at a grocery store in Narathiwat. Three of the men died at the scene, while the other passed away in a hospital today. Pol.Col. Ruengsak Buadaeng, superintendent of Rueso Police Station, said local insurgents are believed to be responsible for the attack.
On the morning of 28 January, two separate roadside bomb attacks also targeted security force convoys in Pattani and Yala.
The first explosion took place near a checkpoint in Yala's Mueang district at 8:09 am, police say. The IED was reportedly set off as a group of police officers were passing on motorcycles, injuring three officers. Police say the IED appeared to consist of seven-kilogram homemade explosive.
The second blast occurred on Route 42 of Pattani-Narathiwat highway in Pattani at 8:10 am and appeared to be aimed at a group of army rangers. However, no one was injured in the incident.
Last month, Gen. Prayuth traveled to Malaysia to meet with Prime Minister Najib Razak and discuss holding Malaysian-brokered peace talks with the southern rebels. However, the shadowy insurgent groups have yet to honor the ceasefire that Gen. Prayuth said must be in place in order for the talks to go forward.
Last month, dozens of banners were hung around southern Thailand questioning the sincerity of Gen. Prayuth's peace dialogue.
The banners, which were written in Thai, English, and Malay, read: "Is it appropriate to negotiate with the coup government? There is no guarantee for sincerity."