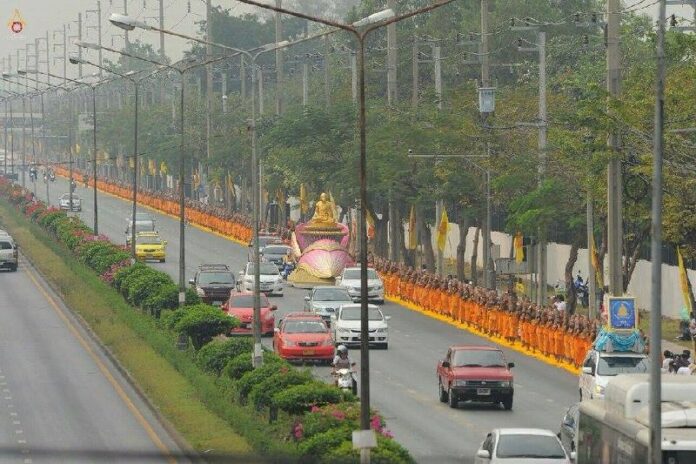 BANGKOK — A senior official in the Thai military government says authorities will launch an inquiry into a "monk pilgrimage" that caused a massive traffic gridlock outside of Bangkok yesterday.
Suwapan Tanyuwattana, Minister to the Office of the Prime Minister, said many motorists have complained about the month-long march, which was organized by a Buddhist sect called Dharmakaya. The majority of the route was through Pathum Thani and Nonthaburi provinces, but some stretches overlapped with major roads in Bangkok's northern and northwestern suburbs, which are already notorious for heavy rush hour traffic.

Photo of the march from Dharmakaya's website.
At least 1,000 monks marched in the event, which was called "Pilgrimage for Victorious Dharma, Path of the Saints who Defeat Evil, Dharma Walk to Restore World's Morality," while Dharmakaya worshipers lined the route and laid down carpets and flowers. Dharmakaya, a Buddhist sect founded in the 1960s, has organized similar mass pilgrimages in the past.
"I have instructed the National Office of Buddism to summon those related to the pilgrimage for a discussion in order to find a solution to the public's troubles, especially the issue of traffic," Suwapan said yesterday. "We will also look into the behavior and practice of the Dharmakaya sect."
He added that Dharmakaya did inform the Bangkok Metropolitan Administration and traffic police about their pilgrimage prior to the event.
When asked by a reporter whether the authorities will launch an in-depth investigation into the sect, Suwapan replied cryptically, "I have my background."
Dharmakaya boasts millions of followers across Thailand, including a strong backing among politicians and businessmen. The sect promotes meditation and purity of the soul in order to reach one's inner dharmakaya, or "truth body."
The church's heavy focus on soliciting donations, extravagant buildings and processions, and secretive organizational structure has drawn criticism from many mainstream Buddhists, who see Dharmakaya as cultish.
Phanom Sornsilp, director of the National Office of Buddhism, said he has instructed representatives from Dharmakaya to organize their next pilgrimage outside urban areas. He also said that the pilgrimage should also be quick, lasting only one hour if possible, and refrain from causing traffic jams.
"Otherwise it will affect traffic and people's lives," Phanom told reporters. "If there are any further complaints from the public, we will convene another meeting with Dharmakaya."
For comments, or corrections to this article please contact: [email protected]
You can also find Khaosod English on Twitter and Facebook
http://twitter.com/KhaosodEnglish
http://www.facebook.com/KhaosodEnglish