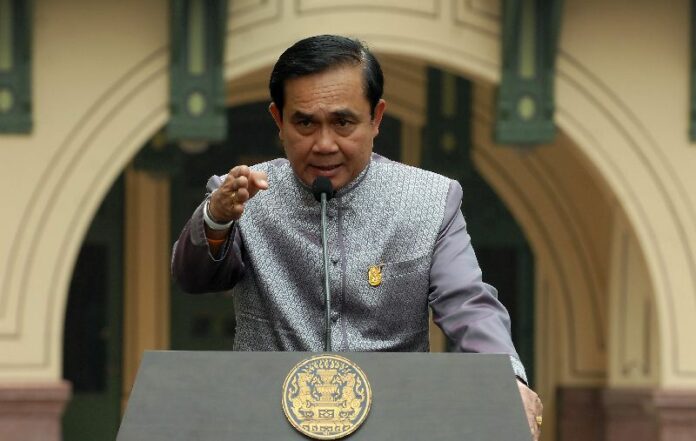 BANGKOK — Junta chairman and Prime Minister Gen. Prayuth Chan-ocha has asked Thais to keep their complaints at home, following an American diplomat's public urging that Thailand's post-coup government cease its suppression of civil rights.
The row started after Daniel Russel, the US Assistant Secretary of State for East Asian and Pacific Affairs, called upon the Thai military to repeal martial law and all restrictions on freedom of expression in a speech at Chulalongkorn University in Bangkok on 26 January.
Thai officials have repeatedly denounced the speech, calling it "inappropriate" and "disappointing." Two days after the speech, the Ministry of Foreign Affairs summoned US Charge d'Affaires to Thailand, W. Patrick Murphy, to discuss Russel's remarks.
In his weekly televised speech last night, Gen. Prayuth urged the public to unite under his mission to "reform" the country, instead of complaining to foreign nations.
"They like to accuse this person, that person. Aren't you ashamed of yourself? You like to whine about your problems to all the foreign nations. Stop doing that," Gen. Prayuth said.
"I have never denied the fact of how this government came into power, but everyone must understand that we did it to take care of the country," he continued. "If we cannot take care of each other and solve our problems, should we let other nations do it for us? Thailand is an independent country. We were never colonized by anyone. Today, why are we letting some people air their problems to this person or that person to solve problems for us? It's shameful."
Gen. Prayuth seized power from the elected government on 22 May 2014 with the stated aim of ending prolonged street protests and returning peace and order. He was later chosen as Prime Minister by an interim parliament whose members he had handpicked.
Gen. Prayuth, who is still chairman of the ruling junta, has retained nationwide martial law eight months after the military takeover, enabling the military to detain and search individuals without warrants, censor the media, ban public protests, and try civilians in military courts, among other powers. According to Human Rights Watch, his administration has thrown Thailand's human rights situation into "free fall."
In response to the US's calls for repealing martial law, Gen. Prayuth said last night that he does not need any advice from foreign nations.
"I want to tell everyone in the international community: give this government some time. Give Thai people some time," Gen. Prayuth said, "I don't need anyone to help. I want us to be strong."
He continued, "Please ask Thais across the country what they want. Don't only ask this group and that group and make conclusion on your own. Give fairness to the Thai people. Give fairness to me, as a leader of the government."
Meanwhile, Don Paramatwinai, the Deputy Minister of Foreign Affairs, suggested that the US diplomat should consider why anti-American sentiment has been spreading on Thai social media in the wake of his speech on 26 January.
"Thai people understand other people easily. We don't pick fights with other people. However, there have been certain opinions about America spreading on Facebook and other sites," Don said. "What drove such a feeling? The US should think about it."
When a reporter asked about his meeting with the US Charge d'Affaires, Don replied, "Don't expect him to change his opinion and stance immediately. He only listened to our concerns and said he would consider them."
On 29 January, Murphy, the US Charge d'Affaires, posted on his Twitter account that the US will continue to work with Thailand on important issues, but also continue to the urge the Thai government "to take necessary steps to bring country back to democracy."
He added, "We believe it is a matter for the Thai people to work together to build democratic future; we don't take sides."
For comments, or corrections to this article please contact: [email protected]
You can also find Khaosod English on Twitter and Facebook
http://twitter.com/KhaosodEnglish
http://www.facebook.com/KhaosodEnglish