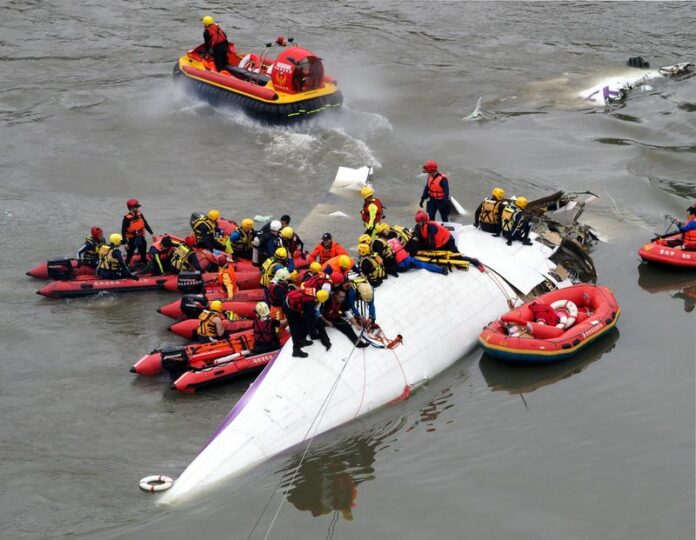 By Yu-Tzu Chiu
TAIPEI (DPA) – At least 13 people were killed when a passenger plane with 58 people on board crashed into a river after hitting a bridge in the Taiwanese capital Wednesday.
Surviving passengers of TransAsia Airways flight GE235 were taken to hospital, the Taipei municipal government said, quoting the fire department.
The twin-engine ATR 72 turboprop crashed shortly after takeoff from Taipei's Songshan Airport, en route to Kinmen Island, with 53 passengers and five crew, state-run Central News Agency reported.
The plane avoided tall buildings of Taipei's Nangang district but its wing hit a bridge and it crashed into the river, an online video showed.
TransAsia Airways officials offered a public apology, and confirmed 13 deaths, 28 injured survivors and 17 people still missing.
"On the site, we are still doing our best to rescue people," chief executive officer Peter Chen said.
Chen said the flight manifest listed 31 Chinese tourists and 22 Taiwanese passengers.
Rescuers were trying to lift the front part of the wreckage with cranes Wednesday afternoon.
The cause of the crash was still unknown. Local media reported that some analysts suspected that one of engines lost power, as the plane failed to gain altitude after takeoff.
TransAsia Airways said the plane was the latest type of ATR-72-600 and the engines were new. Its latest safety check was conducted January 26.
The plane lost radio contact shortly after it took off at 10:52 am (0252 GMT), according to the Civil Aeronautics Administration.
Aviation authority director Lin Chih-ming said the plane was the same type as TransAsia Airways flight GE222 that crashed in Penghu in July 2014, killing 48 of the 59 people on board.