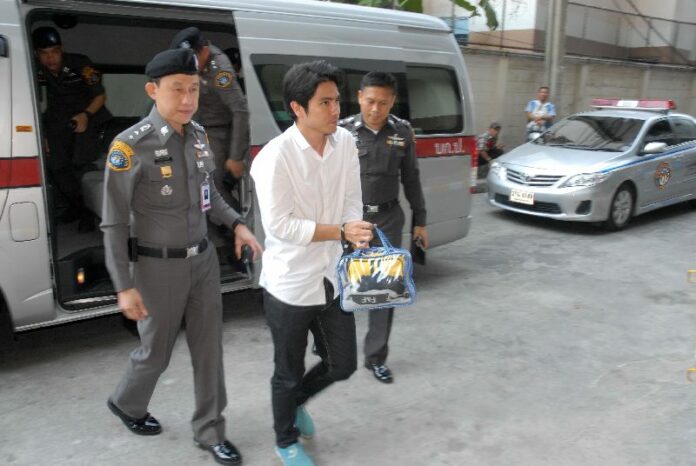 BANGKOK — Thai police have arrested another suspected member of the massive crime syndicate allegedly run by the former director of Thailand's Central Investigation Bureau (CIB).
Ekkachai Ploihin, 28, was arrested by an armed commando at his home in Ratchaburi province yesterday. He has been charged with lese majeste (insulting the monarchy), fraud, and bribing officials.
Police say Ekkachai is a member of the corruption and extortion network run by Pol.Lt.Gen. Pongpat Chayaphan, the former head of the CIB, who was arrested in November 2014. Pol.Lt.Gen. Pongpat is an uncle of former Princess Srirasmi, the wife of Thailand's Crown Prince, who resigned from the Royal Thai Family several weeks after the scandal broke out.
According to police, Ekkachai told a suspected drug dealer in 2008 that he could use his royal connections to dissolve all charges against the suspect in exchange for 1.3 million baht.
Police have also accused Ekkachai of bribing law enforcement officers in 2014 to turn a blind eye to an illegal casino owned by one of his friends. After the military raided the casino in June 2014, Ekkachai was summoned and interrogated by Pol.Lt.Gen. Pongpat himself, but no charges were filed against him.
Ekkachai is being held at Bangkok Remand Prison and was denied bail by the criminal court today.
Speaking at a police press conference yesterday, Ekkachai confessed to "all the major charges," but insisted that the lese majeste allegation was a"misunderstanding." Insulting the monarchy is punishable by up to 15 years in jail under Section 112 of the Thai Criminal Codes.
He vowed to contest the charge in court, adding "I have confidence in the Thai legal system and justice."
At least 26 people have been arrested in connection with Pol.Lt.Gen. Pongpat's alleged crime syndicate.
Many of the suspects are related to former princess Srirasmi, such as Sudathip Muangnuan, Pol.Col. Nattapong Akharaphongpreecha, and Pol.Lt.Gen. Pongpat, the sister, brother, and uncle of Srirasmi, respectively.
Last Friday, Pol.Lt.Gen. Kowit and Pol.Lt.Gen. Pongpat were sentenced to six years in prison for defaming the Crown Prince and running an illegal casino, while Sudathip was found guilty of lese majeste on Monday and sentenced to two and a half years in prison.
In response to the scandal, Crown Prince Vajiralongkorn stripped Srirasmi's entire family of the royally-bestowed surname Akharaphongpreecha, forcing them to revert back to their "commoner" surname, Suwadee, on 30 November.
Less than two weeks later, on 12 December, the Royal Household Bureau announced that Srirasmi had resigned from her status as a member of the Thai Royal Family. She moved out of the Crown Prince's palace in Bangkok to live with her parents in Ratchaburi province and has not been seen in public since 13 December, when she applied for a new national ID card as a commoner.
It is unclear whether Srirasmi and the Crown Prince are formally divorced. The couple married in 2001 and have one 9-year-old son.