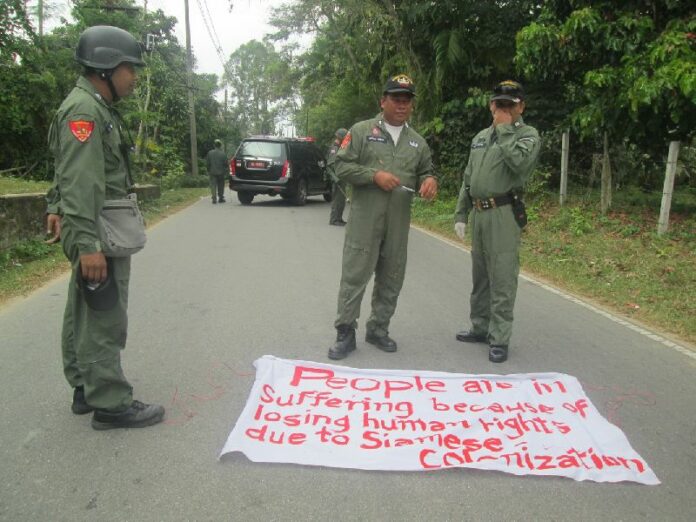 PATTANI — Police say secessionist insurgents in southern Thailand have hung several banners accusing Thai authorities of human rights violations.
The banners were spotted in Pattani, Narathiwat, and Yala – a region known as the Deep South – between 6-7 am this morning. All of the banners bear the same English text: "People are in suffering because of losing human rights due to Siamese Colonization."
Police believe the banners were hung by local Islamic insurgents who have been battling Thai authorities for the past decade in an effort to revive the independent sultanate of Pattani, which was incorporated into modern-day Thailand, then known as Siam, in the early 20th century.
EOD teams were dispatched the remove the banners out of fear that the insurgents may have planted explosives nearby, as has happened the past. However, there were no reports of explosives being found in today's operations.
In December, suspected insurgents hung a series of banners across the region questioning the sincerity of the Thai junta, which had declared its intention to organize peace talks. The banners, written in Thai, English, and Malay, read: "Is it appropriate to negotiate with the coup government? There is no guarantee for sincerity." Homemade explosives were planted near several of the banners.
In contrast to the rest of the country, which is dominated by Buddhists, a majority of those living in the Deep South are Muslims who speak a Malaysian dialect.
More than 6,000 people, mostly civilians, have been killed in the simmering conflict over the past decade, according to data compiled by rights groups.
The shadowy insurgent groups regularly target public schools andteachers, presumably because they are viewed as "instruments" of the Buddhist state. Nearly 200 teachers have been killed in the region since 2004. Many teachers now travel with a large convoy of bodyguards and soldiers.
Human rights groups have also criticised the Thai military's occasionally heavy-handed approach to stamping out violence in the southern border provinces, as well as their reliance on rangers, many of whom are armed volunteers.