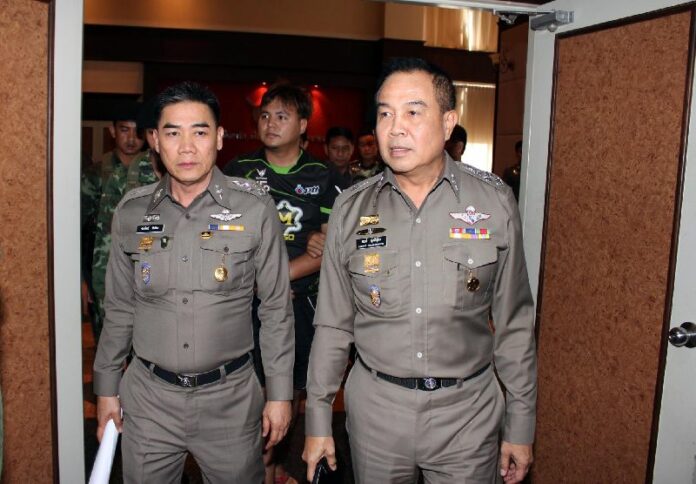 BANGKOK — The Thai military has reportedly denied legal counsel to a Redshirt activist who was arrested for spreading a fake royal statement, citing powers granted to the military under martial law.
Police say Krit Bootdeecheen, 25, was "among the first" to share a document on social media that purported to be issued by His Majesty the King on 2 February. The statement claimed that King Bhumibol had appointed a Regent to act on his behalf. Within an hour, the Thai government announced that the document was forged.
Krit, who has been identified as member of the Redshirt movement, is currently facing charges of lese majeste (insulting the monarchy) and violating Computer Crimes Act, which criminalizes using a computer to spread false information.
Winyat Chartmontri, a lawyer dispatched by Redshirt leaders to assist Krit today, told reporters he was refused entry into the 11th Infantry Regiment headquarters, where Krit has been detained since his arrest yesterday. According to Winyat, military officers claimed they had the right to detain Krit without any access to legal representation for up to seven days under martial law.
Winyat said he cited a series of other laws in an effort to change the minds of the military officers, including Section 4 of the junta's interim charter, which proclaims the protection of every citizen's civil rights, and Section 7/1 of the Thai Criminal Codes, which outlines a suspect's rights to legal assistance while in custody.
"The officers that met with me told me to forget all those laws, because the country is under martial law at the moment," Winyat said. "So they wouldn't let me meet with the suspect. They said I can only meet him after seven days of detention."
He continued, "I would like to inform all relevant authorities that suspects deserve protection in accordance with human rights principles and the Constitution, even though martial law is in place at the moment."
Since seizing power last May, the Thai military junta has used martial law to ban all political activities, censor the press, detain more than 300 individuals in military camps for several days without charges, and try dissidents in military courts, where appeals are not permitted. The junta has also granted military courts jurisdiction over lese majeste lawsuits and other cases that concern "national security."
Worawut Wichaidith, a spokesperson of the Redshirt organization the United Front of Democracy Against Dictatorship (UDD), raised concerns that authorities may be "selectively" prosecuting Redshirt activists in connection with the forged royal document.
"Do the authorities have an intention to politically bully Redshirts?" Worawut asked.
Jatupon Prompan, a top UDD leader, compared Krit's treatment to that of a royalist newspaper, ASTV Manager, that published the false statement on its website.
"Krit is no different than the website of ASTV Manager," Jatuporn said. "But they were treated so differently. Because Krit is a Redshirt, he is detained like a major criminal."
Police summoned the ASTV Manager's online editor for questioning but have not filed any charges.
The Redshirt movement is regularly accused of harboring anti-monarchy elements in its ranks. Redshirt leaders have repeatedly denied the allegations, though a number of radical Redshirt activists are known for their criticism of the monarchy.
For comments, or corrections to this article please contact: [email protected]