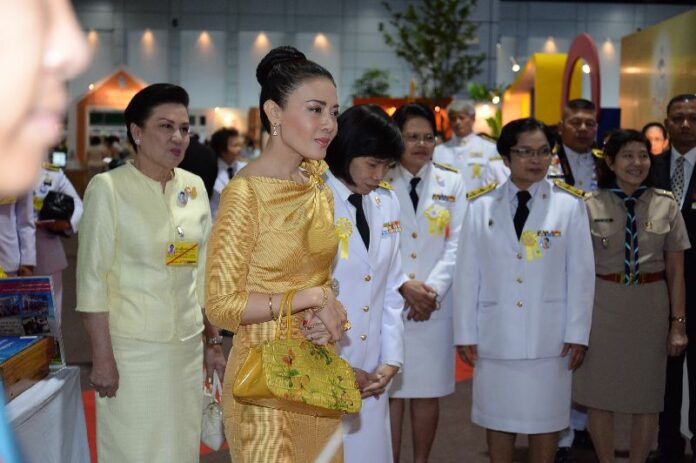 BANGKOK — The parents of the wife of Thailand's Crown Prince, who resigned from her status as a member of the Royal Family last December, are facing charges of lese majeste, police say.
The lese majeste (insult of monarchy) charges were filed by Sawita Maneechan, a resident in Ratchaburi province. Sawita accused Apiruj and Wantanee Suwadee, the parents of former princess Srirasmi, of using their royal connection to bully her in 2003.
Speaking at a press conference today, Sawita said that Wantanee falsely accused her of having an affair with Apiruj. As punishment, Wantanee later used her royal connection to convince a high-ranking police officer to charge Sawita with a bogus fraud charge, Sawita told reporters.
Sawita said she was found guilty in court and sentenced to 24 months in prison; the sentence was reduced to 18 months in jail because she confessed.
"The charge was utterly false, but I was forced to make a confession because I was afraid of the influence [of the Suwadee family]," Sawita said. "My family had to move out of Ratchaburi province, and I couldn't find a job because of my prison record. I would like to ask for fairness from the police. I want them to investigate the facts and dissolve my criminal record."
Pol.Maj.Gen. Thitirat Nongharnpitak said police will investigate the allegation.
"I insist that we will give fairness to all sides," Pol.Maj.Gen. Thitirat said. "We will summon every person related to the issue for interrogation. If police believe there is truth to the allegation, we will punish the wrongdoers."
Defaming the Royal Family is punishable by up to 15 years in prison under Thailand's lese majeste law. Charges can be filed by any member of the public.
Srirasmi resigned from her position as a Royal Family member in December 2014 after several of her relatives, including her brother and sister, were arrested on charges of lese majeste and running a massive corruption ring.
Police say the crime syndicate was headed by Pol.Lt.Gen. Pongpat Chayaphan, the former head of the Central Bureau of Investigation, and Pol.Col. Nattapong Akharaphongpreecha. Pongpat and Nattapong are Srirasmi's uncle and brother, respectively. At least 27 arrest warrants have been issued to people in connection with the crime network.
In response to the scandal, Crown Prince Vajiralongkorn stripped Srirasmi's entire family of the royally-bestowed surname Akharaphongpreecha, forcing them to revert back to their "commoner" surname, Suwadee, on 30 November.
After her royal resignation, Srirasmi moved out of the Crown Prince's palace in Bangkok to live with her parents in Ratchaburi province and has not been seen in public since 13 December, when she applied for a new national ID card as a commoner. She later issued a statement requesting privacy from the crowd of reporters who were camping in front of her residence.
It is unclear whether Srirasmi and the Crown Prince are formally divorced. The couple married in 2001 and have one 9-year-old son.
Related coverage:
Ex-CIB Chief Gets 6 Years for Defaming Thai Crown Prince
Sister of Former Princess Jailed for Insulting Monarchy
CIB Scandal: 28-Year-Old Arrested For Flaunting 'Royal Connection'