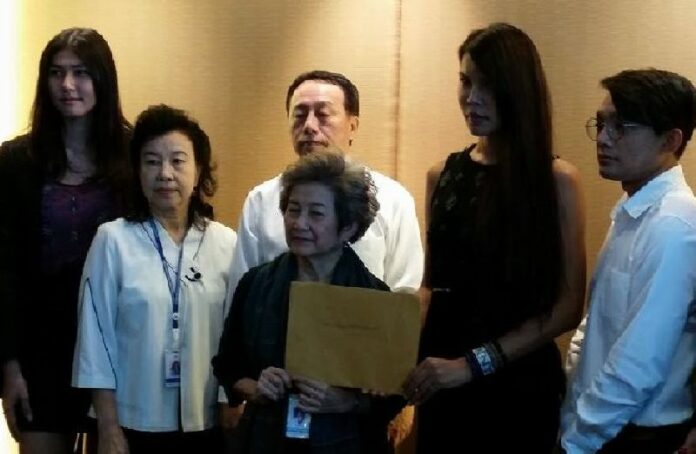 BANGKOK — The National Human Rights Commission (NHRC) says it is investigating a complaint that a prominent nightclub in Bangkok barred a transgender woman from entering its venue.
Nijshanaaj Sudlarphaar, a transgender fashion model, submitted the complaint to the NHRC yesterday. She was accompanied by representatives from the Thai Transgender Alliance, an NGO that advocates rights for LGBT rights in Thailand.
According to the complaint, Nijshanaaj visited Onyx nightclub in the popular nightlife district of RCA at around 11.45 pm on 1 January with four foreign friends. The club bouncers reportedly allowed the four foreigners to enter the venue, but refused entry to Nijshanaaj after they checked her ID card.
Nijshanaaj said the staff told her it was the club's "door policy" to bar transgenders from the venue.
"That answer makes me sad and embarrassed. It's like they disrespect my dignity as a human being," Nijshanaaj said. "My foreign friends also told me they were saddened by the incident. They wondered why I wasn't allowed to use a nightclub in Thailand even though I am Thai."
Ranaphoom Samakkhikarom, director of the Thai Transgender Alliance, told reporters that such a policy violates Section 4 of Thailand's interim charter, which protects the equality of all Thai people.
According to Ranaphoom, many other establishments in Thailand also discriminate against transgenders, who they fear will commit crimes such as theft and prostitution on their premises. Ranaphoom said that a hotel in Chonburi province had a sign that listed three banned objects: durian, dogs, and transgenders.
"They shouldn't generalize about all transgender individuals," Ranaphoom said.
Although Thailand is known for being relatively accepting of LGBTs, especially compared to many other Southeast Asian nations, conservative facets of society occasionally express prejudice against the community. Transgenders, known by locals as ladyboys, are routinely mocked in slapstick comedies, and gay marriage remains unrecognized by Thai laws.
Accepting the complaint from Nijshanaaj, NHRC member Tairjing Siripanich said he will investigate the incident and summon the owners of Onyx nightclub to provide testimony.
"Discrimination is unacceptable," Tairjing said. "In the past we have received many complaints about [transgenders] being refused service at hotel conference centers and nightclubs. Their identity is also often used for comedy and ridiculed, even though such actions are unacceptable."
According to Tairjing, refusal of service or entry to transgenders sometimes stems from misunderstanding between the venue owners and low-ranking staff. However, in some instances staff are following orders from business owners, who later deny that they set the policy, he said.
Tairjing said he would also like to remind all business owners that the new constitution, which is currently being drafted by a junta-appointed committe, will specifically ban discrimination based on gender.
"If the draft is approved and enforced, the situation of fairness and equality for these people will improve," the NHRC official told reporters.
For comments, or corrections to this article please contact: [email protected]