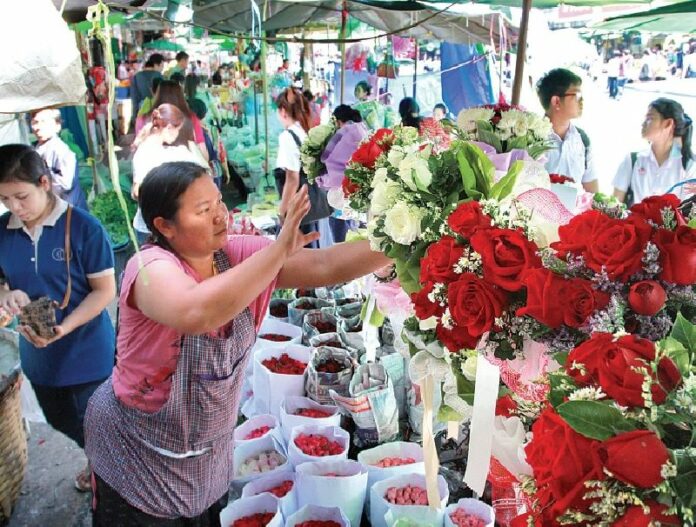 BANGKOK — As a part of an annual campaign to keep young people in line on Valentine's Day, the Royal Thai Police have warned parents to inform their children of the "dangers" associated with the occasion.
Parents, guardians, and teachers should instruct children to be extra careful on Valentine's Day this Saturday, Pol.Maj.Gen. Patipat Suban na Aytthaya said in a press conference yesterday.
"They should tell the children to be careful and take care of themselves. They should also ask for cooperation from children to avoid risky behavior on that day,"Pol.Maj.Gen. Patipat said.
Valentine's Day has become a widely-celebrated in Thailand in recent decades. According to a report compiled by Kasikorn Bank, spending around the holiday last year amounted to 1.5 billion baht.
However, authorities in Thailand – a socially conservative country despite its freewheeling sex industry – frown upon the holiday, as it is perceived to encourage premarital sex. Every year, police and state agencies launch a campaign to ensure that Thai youths refrain from "inappropriate activities."
Yesterday the Ministry of Interior Affairs issued an order to all provincial authorities to ensure that nightclubs and hotels strictly follow the laws on Valentine's Day and bar underage customers from their venues.
The national police force has issued a similar order, placing all police units in the country on alert from 11-15 February to "increase vigilance in risky areas in which sexual harassment and crimes can take place," said Pol.Maj.Gen. Patipat.
He also urged all entertainment venues and nightclubs to report any incidents of "children being lured" or "behaving in an inappropriate way" to local police units by dialing 191 or 1599.
Related coverage: