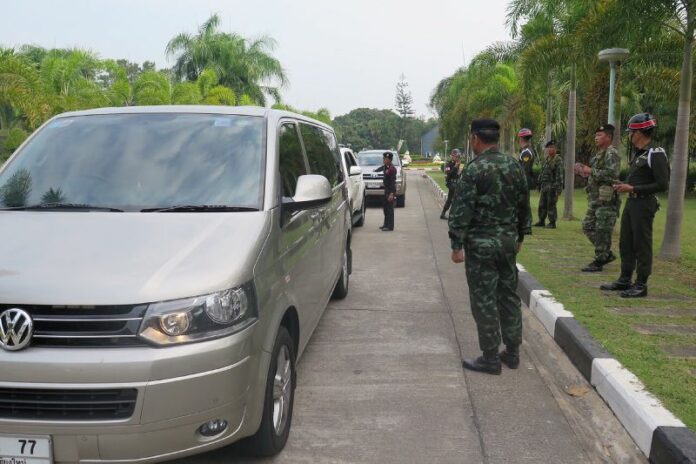 CHIANG MAI — Army officers stopped and searched cars traveling in former Prime Minister Yingluck Shinawatra's convoy through the northern province of Chiang Mai today.
Yingluck and her aides were headed to Chiang Mai for a religious service when their convoy was stopped at a security checkpoint.
The soldiers identified themselves as officers from the Third Region Army and asked to search all of the vehicles — except for Yingluck's — for "security reasons."
Yingluck complied, and her motorcade was allowed to proceed shortly afterwards.
According to Lt.Gen. Sathit Pittarat, commander of the Third Region Army, the search was a part of his unit's routine efforts to stem the narcotic trade and "any movements that may incite chaos."
The general insisted that soldiers at the checkpoint stop every vehicle that passes through, and did not target Yingluck specifically. He also explained that the military officers spared Yingluck's vehicle from the search because they "respected her dignity."
"We didn't touch the former Prime Minister's car at all," Lt.Gen. Sathit said. "I would like to also deny the reports that I sent soldiers to trail her. It's merely for maintaining security. When VIPs enter the area, we have to be responsible for their safety."
This week, the ruling junta denied Yingluck's request to leave the country, citing the criminal lawsuit she is currently facing for allegedly failing to stop corruption in her administration's rice-pledging scheme.
The rejection of Yingluck's travel request suggests fear among junta leaders that Yingluck may follow in her brother's footsteps and flee the country to evade the lawsuit.
Yingluck's brother, former Prime Minister Thaksin Shinawatra, was ousted in a military coup in 2006 and has lived in self-imposed exile since 2008 to avoid serving time for corruption convictions.
Last month, Yingluck was retroactively impeached for the same offense by an interim parliament appointed by the junta. The verdict, which Yingluck's supporters say was an effort to cripple her political faction, came with an automatic five-year ban from political office.
The Office of Attorney-General announced that it would press criminal charges against Yingluck on the same day of the impeachment vote.
Yingluck was initially ousted from the premiership last May by the Constitutional Court, which found her guilty of unlawfully transferring a government official in 2011.
Two weeks later, Gen. Prayuth Chan-ocha, who was serving as army chief at the time, dissolved what was left of her government in a coup d'etat. He was later appointed Prime Minister by a rubber stamp parliament in August.