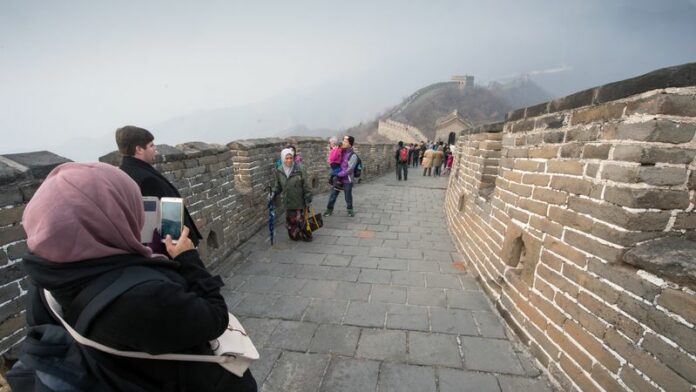 BEIJING (DPA) — Chinese state media Wednesday highlighted the bad behaviour of foreign tourists as hundreds of millions of locals began travelling home or on holiday for the Chinese New Year holiday.
Chinese tourists have increasingly come under fire in recent years for their behaviour abroad.
"It's been said that Chinese people can be uncivilised. In fact, it also applies to many foreigners," said People's Daily Online, the website for the government's official newspaper. "Our website has combed through a number of examples of uncivilised behaviour by foreign tourists. Let's not learn from them. Ha!"
The article showed photos and examples of foreigners misbehaving, such as those who have posed nude outside tourist sites, stepped on monuments, camped on China's Great Wall – which is prohibited – and taken up too much space on public benches.
An accompanying graphic provided Chinese readers with guidelines on civilized travel. These included avoiding writing "I have visited here" on landmarks, cutting queues and snapping their fingers to get people's attention.
The rude antics of some Chinese tourists have embarrassed many in the country, and sparked debate about how the government could discourage bad behaviour.
In the worst incident in recent months, a flight attendant on an AirAsia flight was scalded in December after noodles in hot water were flung at her by a Chinese tourist, who was angry about not getting a receipt for her purchase.
The tourist was accompanied by three others, one of whom later threatened to blow up the aircraft because the group of four could not be seated together.
China will establish a public record of Chinese tourists who behave badly in foreign countries, state media reported last month.
The Civil Aviation Administration of China is also considering blacklisting and punishing unruly airline passengers, according to the China News Service.
According to the Chinese lunar calendar, the new goat year begins on February 19, the longest and most important celebration in the Chinese calendar.