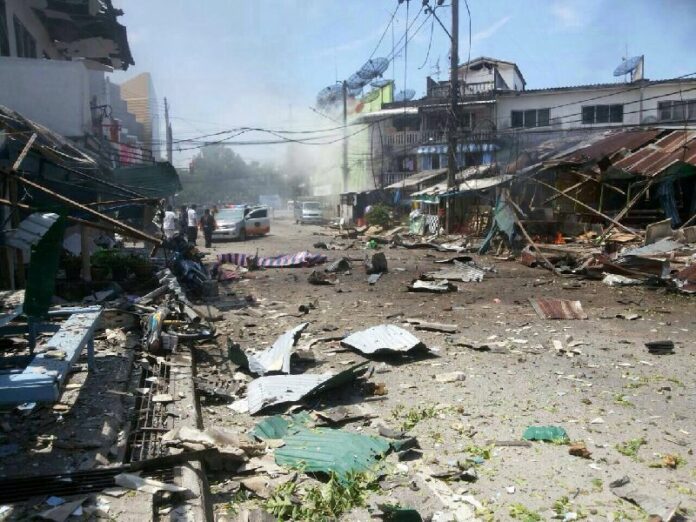 NARATHIWAT — Thirteen people were injured when a car bomb exploded in front of a karaoke bar in the insurgency-plagued province of Narathiwat on Friday afternoon.
Several houses and other shops in Muang district were damaged by the bomb, which police believe was planted by local insurgents who have been waging a bloody separatist campaign in Thailand's southern border provinces for the past decade.
Police say the blast wounded two soldiers and 11 civilians, one seriously.

The aftermath of a car bomb in Narathiwat province, Feb 20, 2015.
A second bomb planted on a motorcycle 500 meters away from the site of the first explosion was diffused by authorities without incident.
"The attackers wanted to lure police to the site before hitting us with another bomb," a police commander told AFP. Police say they are studying CCTV footage to identify a suspect.
Insurgents have been battling Thai authorities in Narathiwat, Yala, and Pattani provinces – a region known as the Deep South – since early 2004. The separatists aim to revive the independent sultanate of Pattani, which was incorporated into modern-day Thailand in the early 20th century.
In contrast to the rest of the country, which is dominated by Buddhists, a majority of those living in the Deep South are Muslims who speak a Malaysian dialect.
More than 6,200 people, mostly civilians, have been killed in the simmering conflict over the past decade, according to data compiled by rights groups.