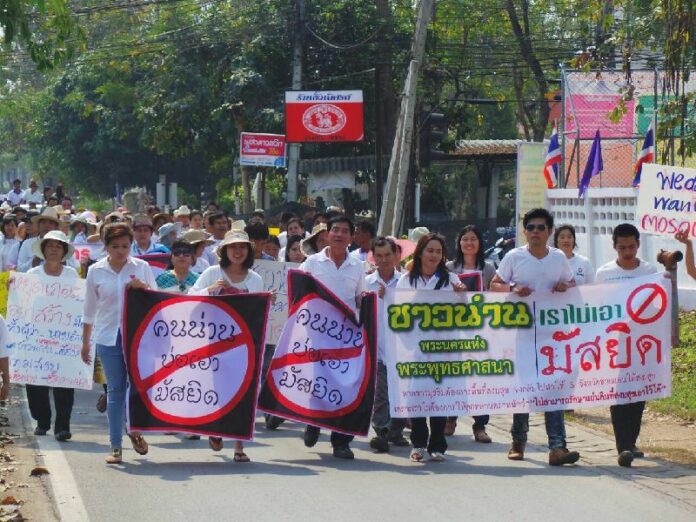 NAN — More than 1,000 Buddhists gathered by a temple in northern Thailand yesterday to protest a plan to construct a mosque in Nan province.
The rally came in response to news that a group of local Muslims had purchased a plot of land in Nam Kaen subdistrict, where they said they intended to build a house of worship.

Buddhists gather at Phra That Chae Haeng Temple to protest the construction of a mosque in Nan province, 1 March 2015.
After gathering in front of Phra That Chae Haeng Temple yesterday, more than 1,o00 white-clad protesters, who were joined by Buddhist monks and novices, marched to Nan City Hall and submitted a letter urging the provincial government to halt the mosque project.
The letter insisted that opposition to the mosque was not motivated by "religious persecution," but rather dissatisfaction with the lack of transparency and public consultation over the project.
The letter also cited other concerns, such as "noise pollution," "differences in lifestyle and culture" between Buddhists and Muslims, and possible "unrest and violence" that could follow the construction of the mosque.
One banner held up by a demonstrator yesterday said: "If Muslims want a land of peace, they must go and make the 3 southern border provinces peaceful first," a reference toThailand's Muslim-majority Deep South, where Islamic militants have been battling security forces since 2004 in an effort to secede from the nation.
According to a representative from the Muslim group in Nan, the nearest mosque is 130km away in a neighboring province.
"It's not convenient for us to travel, and it's dangerous, because some people have to travel by motorcycles, so I think there should be a mosque as a community center for Muslim brothers and sisters," Imaam Yarin was quoted as saying by Thai Rath newspaper. "Furthermore, tourists from neighboring provinces, including foreigners and individuals who are Muslim, can visit the mosque. It will lead to more spending in the region."
Yet a Facebook page that helped organize yesterday's demonstration, called "Nan Residents Against Mosque," cast the construction project as a direct assault on Buddhism.
"The religion of Buddha has been bullied enough. The last stronghold of Buddha's religion in Thailand is the city of Nan," read a post that urged others to join the protest. "Our ancestors have established Buddha's religion in this land of Dharma. The children of Nan must defend it. Do not let others trample on it."
Buddhists march to Nan City hall to protest the construction of a mosque, 1 March 2015.
The "Nan Residents Against Mosque" page also cited a series of conspiracy theories to support its cause, such as an alleged plot by Muslims to take over northern Thailand and link the region with the Muslim Rohingyas in Myanmar and Muslim Uiqhurs in China. Another post claimed that "Christian and Muslim" officials were conspiring to cut Buddhist lessons from state schools in Thailand.
The deputy governor of Nan province, Chairat Tharasantisuk, accepted the letter from demonstrators yesterday and promised to "urgently" consult other officials about the matter.
"We will listen to the voice of the people," Chairat said.
The protesters later dispersed peacefully. Security forces did not interfere with the rally, even though protests remain banned under the ruling military junta, which seized power from an elected government on 22 May 2014.
Muslims make up about 5 percent of Thailand's predominantly Buddhist population.
For comments, or corrections to this article please contact:[email protected]
You can also find Khaosod English on Twitter and Facebook
http://twitter.com/KhaosodEnglish
http://www.facebook.com/KhaosodEnglish