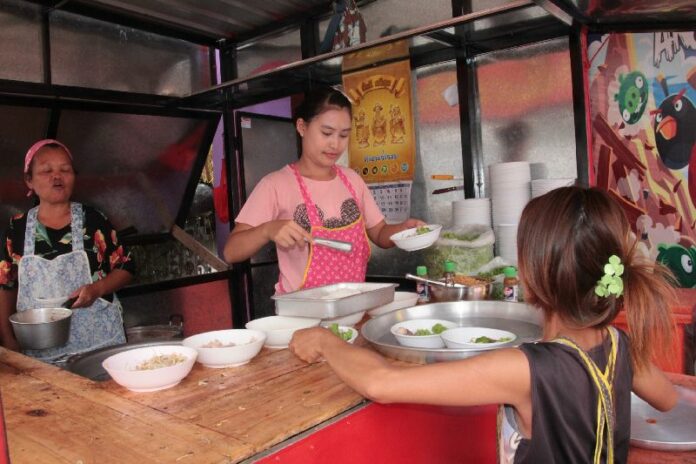 NAKHON RATCHASIMA — A food vendor in northeastern Thailand is offering a special deal for customers who have had an otherwise bad day: free bowls of noodle soup for anyone who presents a ticket from traffic police.
The noodle stall in Nakhon Ratchasima province, called Tiew Mai Wa, announced the deal on social media several days ago. According to the shop, traffic violators can only claim their free meals on the same day of their ticketed offense, and only 30 free meals will be given out per day.

Weerayuth Nakhathorn holds up the traffic ticket that earned him a free bowl of soup at Tiew Mai Wa noodle stall in Nakhon Ratchasima province, 2 March 2015.
The stall's owner, Sirithat Somsangiam, said the promotion is not intended to criticize police or encourage law-breaking.
"I merely have sympathy for people who were forced to pay fines for traffic law violations," Sirithat told Khaosod.
More than a dozen of people have already claimed free bowls today, said Sirithat, who opened the noodle stall last month.
Speaking to a reporter as he ate his free meal, a 21-year-old student from Nakhon Ratchasima Technical College expressed frustration that police in the province appear to have more enthusiasm for fining motorists than arresting criminals and robbers.
"I am thankful for the kind vendor and the promotion," said the student, Weerayuth Nakhathorn.
Traffic police in Thailand are notorious for demanding bribes from motorists who violate traffic laws.
Several Facebook pages have sprung up in recent years to identify the locations of traffic police checkpoints in different provinces.
For comments, or corrections to this article please contact:[email protected]
You can also find Khaosod English on Twitter and Facebook
http://twitter.com/KhaosodEnglish
http://www.facebook.com/KhaosodEnglish