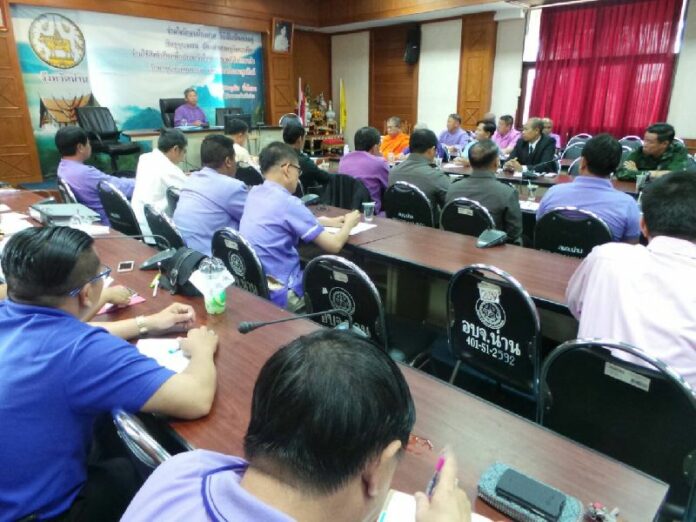 NAN — The governor of Nan province has suggested the local Muslim community strike a compromise with Buddhists who have publicly opposed their plan to build a mosque in the province.
Governor Ukrit Puengsopha said that instead of constructing a permanent mosque, local Muslims can start by building a balasah, which is a smaller, temporary place of worship. The community can then upgrade to a larger mosque when there are more Muslims in the region, Ukrit said.
"When there is a plan to build a Buddhist temple, they start by building a monks' residence first. If the community sees benefits from it and accepts it, they develop it into a monastery. After that, if the community wants, and there is land, the residents will request to upgrade it into a temple," Ukrit said. "The same goes for a mosque. They can start with balasah. If there are more Muslims, and if the neighboring society becomes more accepting, it can eventually become a mosque."
The governor suggested the compromise at yesterday's meeting between local officials, military officers, representatives from the Muslim community, and monks who organized the recent anti-mosque protest.
On 2 March, around 1,000 Buddhists, including some monks and novices, marched in protest of the mosque construction despite the current ban on protests imposed by the ruling military junta.
In a letter submitted to the governor on the day of the protest, the campaign's leaders insisted that opposition to the mosque was not motivated by "religious persecution," but rather dissatisfaction with a lack of transparency and public consultation over the construction project.
The letter also cited other concerns, such as "noise pollution," "differences in lifestyle and culture" between Buddhists and Muslims, and possible "unrest and violence" that could follow the construction of the mosque.
According to local Muslims, the nearest mosque is currently 130km away in a neighboring province.
At yesterday's meeting, Ukrit said opposition to the mosque was caused by a misunderstanding among Buddhists about the religion of Islam, and stressed that Nan is a multicultural province that welcomes people of all nations and faiths.
"Nan is a province of diversity in term of ethnicity. We have been co-existing peacefully for the last 700 years. But we never had an active Muslim community before, so it leads to a situation of panic and misunderstanding today," Ukrit said. "There is also news and information from the media about the situation in the world that perpetuates the image of violence, so there is misunderstanding and concern."
He continued, "Acceptance of religious beliefs takes time. There has to be building of understanding and positive feeling. I believe the situation of Nan brothers and sisters opposing the plan to build the mosque is caused by a lack of knowledge among people who still don't understand and feel familiar [with the Muslim community]. If we give it time and understanding, there wouldn't be this problem … I insist that Nan is a place for all religions."
For comments, or corrections to this article please contact:[email protected]
You can also find Khaosod English on Twitter and Facebook
http://twitter.com/KhaosodEnglish
http://www.facebook.com/KhaosodEnglish