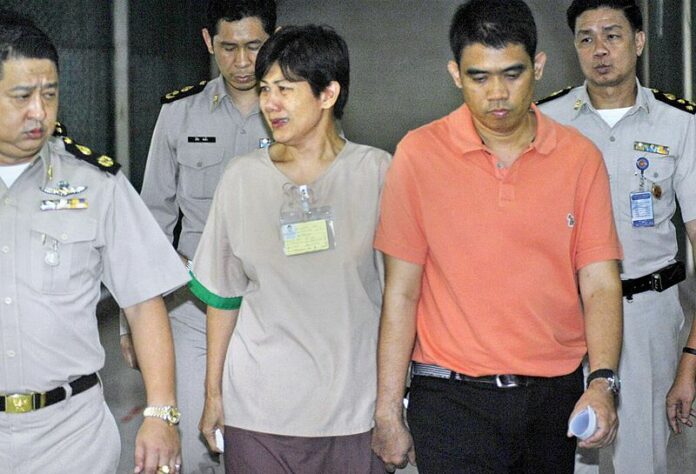 BANGKOK — The sister of former Princess Srirasmi Suwadee has been sentenced to 1.5 years in prison for encroaching on public land in Ratchaburi province.
Sudathip Muangnuan and her husband, Pol.Col. Kowit Muangnuan, were found of guilty of violating the 1941 Forest Act for using a piece of public wooded land in Suan Pueng district for their own purposes between April 2013 – November 2014. They caused 495,878 baht in damges to the state, prosecutors said.
A Criminal Court in Bangkok sentenced the pair to 3 years in prison yesterday, but cut the term in half because Sudathip and Pol.Col. Kowit confessed.
Sudathip is already facing two and a half years in prison for using her ties to the Thai Royal Family to benefit her foodstuff business.
Sudathip is the sister of Srirasmi Suwadee, the former princess and wife of Thailand's Crown Prince who resigned from her royal status in December 2014. Her resignation came after several members of her family were arrested and accused of running a massive crime syndicate involved in extortion, illegal gambling dens, and oil smuggling, among other alleged crimes.
Srirasmi's parents, Apiruj and Wantanee Suwadee, are also beingdetained at Bangkok Remand Prison while they await trial for charges of lese majeste, which carries a maximum penalty of 15 years in prison. Apiruj and Wantanee were charged with lese majeste after an employee of a royal charity foundation accused them of using their ties to the monarchy to have her jailed for 18 months on bogus fraud charges.
Srirasmi has not been seen in public since 13 December 2014, when she applied for a new national ID card as a commoner.
It is unclear whether Srirasmi and the Crown Prince are formally divorced. The couple married in 2001 and have one 9-year-old son.
For comments, or corrections to this article please contact:[email protected]
You can also find Khaosod English on Twitter and Facebook
http://twitter.com/KhaosodEnglish
http://www.facebook.com/KhaosodEnglish