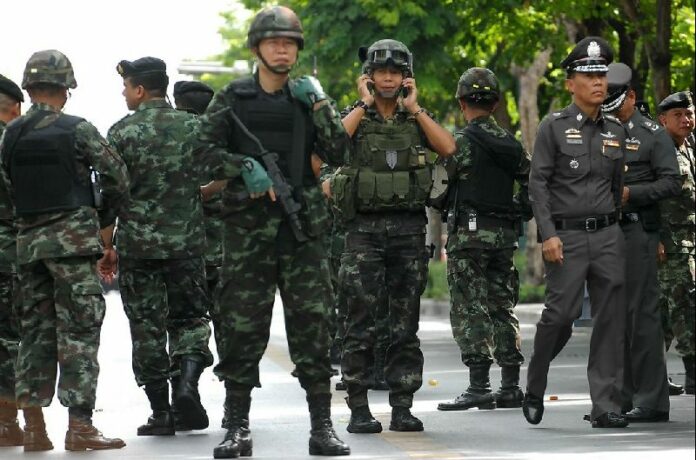 BANGKOK — Security officers will closely monitor a weekend march organized by activists in Bangkok who are protesting the junta's suppression of civil rights, a spokesperson for the junta warned today.
"We will monitor [the march] closely," said Col. Winthai Suwaree. "If we find anything that violates the law, we will be required to take action."
Col. Winthai was referring to a three-day walk organized by the anti-coup group 'Resistant Citizens' that will begin in Bangbuathong district on Saturday. The group has invited the public to join them on the 50-km march to Pathumwan Police Station in Bangkok, where four of the group's members must report for violating the junta's ban on public protests last month.

A video promoting the march, called "I Walk Therefore I Am."
"We want to do an activity that reflects the concept that, if justice is not coming to us, we will walk to find it," said Pansak Srithep, one of the activists arrested on 14 February for organizing a pro-democracy demonstration. "I believe the activity will not violate martial law, because it's just walking to report to the police. If someone obstructs me, that will amount to an obstruction of justice."
However, Col. Winthai warned today that the march may violate the junta's ban on political protests.
"Based on the information I have received, tomorrow's activity may be considered a political act," said the spokesperson. "When country is under abnormal conditions, the state has to implement appropriate measures with the aim of restoring peace and order in society."
One of the group's main grievances is the trial of civilians in military courts, where military officers serve as judges and appeals are not permitted. After seizing power last May, the junta granted martial courts authority to try defendants charged with violating the junta's orders, lese majeste (insulting the monarchy), and other offenses that "threaten national security."
At least 60 civilians are currently facing trials in martial court for violating the junta's ban on public protests.
Yesterday, ten activists from Resistant Citizens submitted a letter to the Criminal Court in Bangkok urging officials defend civil rights and cease trying civilians in military court. The group was led by Arnon Nampha, a human rights lawyer who founded Resistant Citizens and has represented activists charged with violating the junta's ban on protests.
"In recent days, Mr. Arnon has displayed his lack of understanding and tried to create conditions [for chaos]," Col. Winthai said today.
He also dismissed the group's complaint about martial court trials.
"If the accused is guilty based on complete evidence and witnesses' testimonies, the verdict will not be different regardless of what court delivers it," Col. Winthai said, adding that he believes majority of Thais understand the role of military courts under the current circumstances.