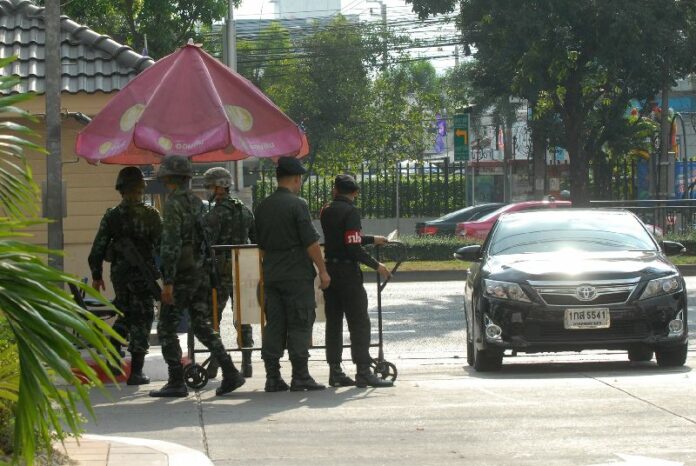 BANGKOK — A Thai military court has denied bail to a terror suspect who said he was tortured in military custody earlier this month.
Sansern Sri-unruen, a 54-year-old taxi driver by profession, has been held in prison since 16 March to await a trial in military court for his alleged connection to a "terrorist network" that planned to stage bomb attacks in Bangkok.
Today, a judge denied the 800,000 baht bail posted by a member of the Thai Lawyers for Human Rights group, citing the possibility that Sansern might try to flee the country.
The lawyers group says that Sansern and three other men were beaten by soldiers while they were held incommunicado at an army camp for six days of interrogation. Under martial law, which was imposed by the military junta that seized power in the May 2014 coup, security officers can detain individuals without charges for up to seven days.
Sansern also said soldiers electrocuted him "30-40" times on his legs in an effort to extract a confession.
The four men have been accused of participating in a plot to "create chaos" and draw an intervention from the United Nations by planting bomb attacks around the capital city. Police say the network was responsible for the grenade attack at the Criminal Court on the night 7 March.
At least 12 arrests have been made in connection with the case so far.
The military has sternly denied the torture allegation and threatened to take legal action against those who spread it.
"Everyone, including the chief of police and even the Prime Minister, answered in the same way that there was never any torture or beating of suspects," Maj.Gen. Sansern Kaewkamnerd said on 21 March, "The officers have clear evidence. There is no need to do such a thing. Soldiers and police don't think it would help anything to do that. However, we are willing to investigate the issue."
Speaking to Khaosod yesterday, Pawinee Chumsri, the lawyer who represented Sansern, said her group has received 13 complaints about torture under military custody since the junta seized power on 22 May 2014. The complaints, she said, include three suspects who were arrested and accused of launching an attack on a Yellowshirt rally in Trat province on 22 February 2014.
"We try to collect evidence after we receive complaints, but I have to admit that it's very difficult, because security officers claim it's a matter of national security," Pawinee saide. "Martial law doesn't make it easy for independent agencies or human rights workers to prove the evidence after they receive complaints."
She also warned security officers are more likely to resort to torture under martial law, which allows them to detain suspects in army camps without access to lawyers or the outside world.
Pawinee cited the case of Yapa Kaseng, an imaam from the restive province of Narathiwat who was detained by military officers under martial law and fatally tortured in their custody in 2008. Yapa was accused of aiding a local insurgent group that sought to secede Narathiwat and neighboring provinces from Thailand.
A court later confirmed in 2011 that Yapa was beaten to death by a group of soldiers when he was held at an army camp for interrogation. The Ministry of Defense also stated that there was no evidence that linked Yapa to the insurgents, and agreed to pay compensation to the cleric's family.
Last May, the junta held a Redshirt activist incommunicado for three weeks – violating the seven-day limit under martial law – before
admitting
to the public that she was in military custody. The activist, Kritsuda Khunasen, fled Thailand shortly after she was released and accused soldiers of torturing her while she was in their custody.