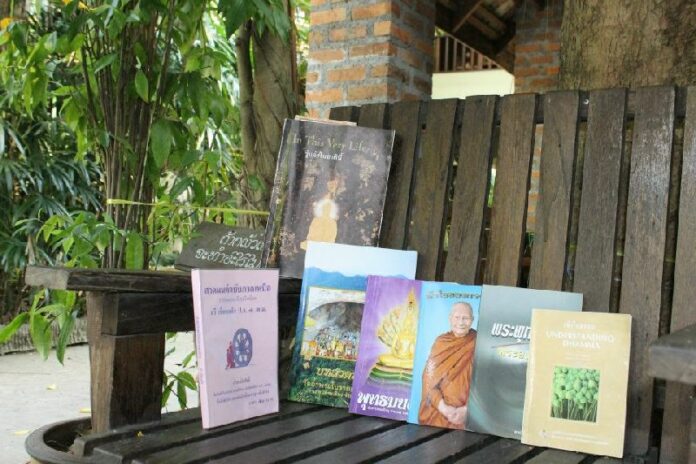 CHIANG MAI — Visitors to Sankangpla Temple in Chiang Mai province looking for a boost of energy — physically or spiritually — are encouraged to order a special cup of "merit coffee" made by monks in a cafe on the temple grounds.
According to the temple's abbot, the cafe, named Kafae Boon (Merit Coffee), started as a small booth in 2012, after one of the monks suggested providing beverage to temple-goers.

A monk making coffee at Kafae Boon in Chiang Mai province.
"But we couldn't get the formula for our beverage right. We had to improvise," Phra Kru Sitthipanyaporn explained. He said a monk at the temple later came up with a unique formula for the coffee, took over the booth, and expanded it into a permanent shop in 2014.
Nowadays, the cafe offers modern and traditional Thai coffee, tea, and water. Sitthipanyaporn said the shop does not directly charge clients. Instead, the shop has a sign suggesting donation prices and advises visitors to donate the money to the temple. The cafe also features a "Dharma book corner" for temple-goers who are interested in learning more about Buddhist teachings.
Sitthipanyaporn said the cafe is intended to be a place where young people can chat about Buddhist philosophy.
"It's like a reception room for the temple that welcomes everyone," said the abbot, "If you don't have the money, you can still come to drink the coffee and talk about Dharma. We applied modern culture, such as coffee shop, that people like in our temple. All of the materials were donated by temple-goers."
Phra Tawatchai Kattirat said he works as a barista whenever he is free from his daily religious routines at the temple.
"We are well-trained for the job," Phra Tawatchai said, "We developed our beverage formula to rival leading coffee shops."