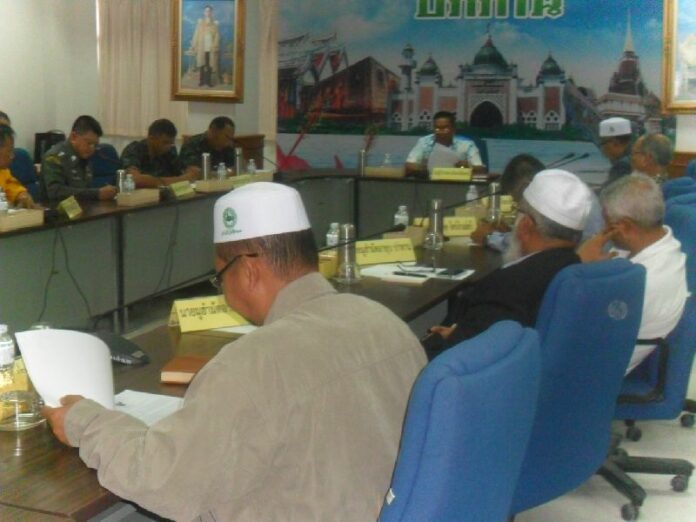 BANGKOK — An investigation into the killing of four suspected militants during a raid in the southern border province of Pattani will be completed by 3 April, according to a top member of Thailand's military junta.
"We have formed a committee to investigate the facts," said Gen. Prawit Wongsuwan, deputy chairman of the junta. "State officials are not apathetic about what the local residents are concerned about. Right now we are proceeding in accordance with the laws, and the laws do not side with anyone."

The home of Mahama Senlae, whose 32-year-old son was killed in the raid, Pattani province.
He was referring to four men, all in their early twenties or thirties, who were shot dead during a raid carried out by police, military, and paramilitary rangers on a village in Thung Yang Daeng district of Pattani province on 25 March. Twenty-two other men were also arrested at the scene and taken to army camps. Thirteen of them were released several days later without charges.
Police said they opened fire after encountering resistance from the suspects, who they believed were plotting attacks in the area. Two of the deceased were initially identified as members of RKK, one of the Islamic militant groups behind a secessionist movement that has claimed more than 6,000 lives in the region.
However, it later emerged that none of the victims had any pre-existing criminal records of participating in the secessionist movement, prompting relatives and community leaders to demand an impartial investigation into the raid.
The father of Suhaimi Senlae, one of the victims killed in the raid, told Khaosod he was shocked to hear the accusation that his son was a member of the RKK militant group.
"I don't know who I can ask for fairness on the behalf of my son and my family," said Mahama Senlae.
Mahama said his son was even planning to volunteer for the Village Defense, a state-backed paramilitary unit, after two of his close relatives – one of whom was serving as a village defense volunteer – were recently shot dead by militants.
"He [Suhaimi] wanted to replace his cousin who was killed," Mahama said. "The secretary of Thung Yang Daeng district already reached out to him. Why would my son be a member of RKK? The district office didn't check any information at all?"
Officials in Pattani say they have convened a 15-member panel to carry out the inquiry. The panel includes local administrative officials, National Human Rights Commissioners, military officers, and representatives from the Central Islamic Committee of Thailand and Fatoni University, where two of the victims were enrolled as students.
The incident highlights the deep mistrust of Thai authorities among locals in the three southern border provinces, a region known as the Deep South. An estimated 60,000 security officers are deployed in the area to battle separatist violence that broke out in 2004. Although a majority of casualties in the Deep South have been killed by the shadowy insurgents, security officers are often accused of employing excessive violence and violating human rights in the region.
Pol.Maj.Gen. Kritsakorn Pleethanyawong, commander of Pattani police, told Manager news that security officers who led the raid will be charged with murder, though he did not specify when the charges will be pressed.
"We will press charges against all related individuals for what happened, be it state officials or anyone else who are involved, for murder," Pol.Maj.Gen. Kritsakorn was quoted as saying. "I am not feeling troubled by this, because my supervisor has instructed me to proceed with this care fairly and straightforward. Who committed wrongdoing has to answer for the wrongdoing."
CORRECTION: The panel investigating the raid will consist of 15 members, not 17 members as was originally reported.
Related coverage:
Doubt Cast on Deep South Raid Casualties' Links to Insurgency