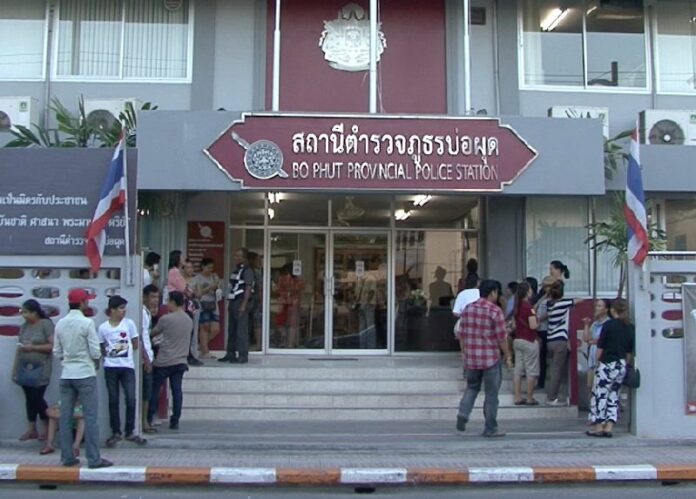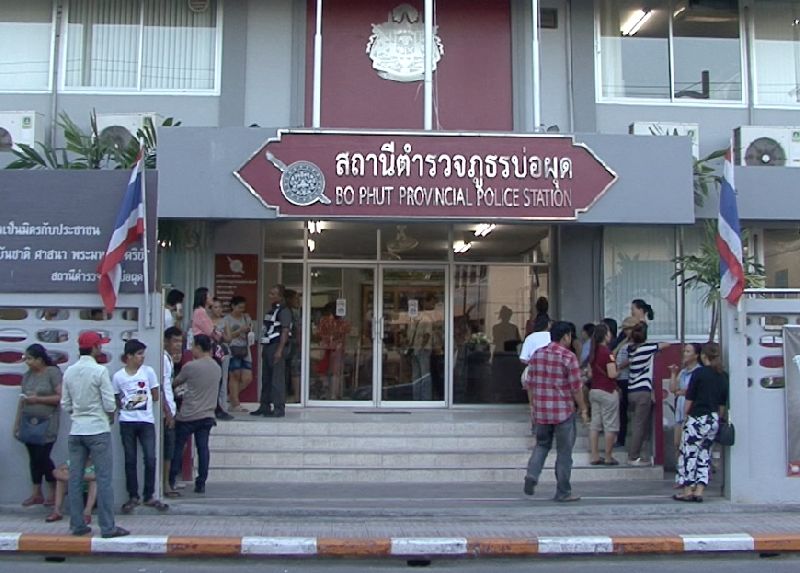 SURAT THANI — More than 50 vendors on the southern island of Koh Samui gathered in front of a police station last night to protest alleged rampant bribery among police officers on the island.
The rally was sparked by the arrest of 42-year-old woman who sold counterfeit purses near Chaweng beach yesterday evening.
Patcharee Chimthaprasert, 49, who represents an association of vendors selling counterfeit goods on the island, said the arrest occurred several hours after she and police had failed to agree on bribe fee.
According to Patcharee, police had originally demanded a total of 50,000 baht from the store owners to overlook their violation of copyright laws. However, they later raised the price to 190,000 baht, which the group refused to pay.
"Because we disagreed on the fee, those police officers immediately made an arrest at one of the shops that sells brand names bag," said Patcharee.
"This is like killing the chicken in front of the monkey," she continued, using a Thai idiom that describes making an example of someone in an effort to intimidate others. "Arrest today and make us pay tomorrow. They are acting like racketeers. We cannot accept that."
After news of the arrest spread, around 50 vendors from 20 shops near Chaweng beach closed down their stores and staged a rally in front Bo Phut Police Station.
"Today, they can arrest me, but I won't let them get away with it," said Nampueng Moongraiklang, who was charged with selling copyrighted material. "I don't sell narcotics. I don't kill anyone. They extorted money out of me, and when they couldn't do it anymore, they arrested me."
Speaking to reporters, Pol.Lt. Pitaksith insisted that his team raided the shop and arrested Nampueng because the store violated copyrights laws.
"Law enforcement officers have the power to make arrests without complaints from the victims, because the state is the victim in this case," Pol.Lt. Pitaksith said. "There is also a notice by the Royal Thai Police to strictly arrest cases of counterfeit goods of copyrighted material that has been registered in foreign countries, so we made the arrest."
He also explained that his team only targeted one store because "there were only four officers, so we could not arrest other shops," but he vowed to crackdown on similar offenders soon.
"As for whoever accused the officers of demanding bribes, there may be legal action against them, on charges of insulting law enforcement officers," Pol.Lt. Pitaksith said.
Patcharee, the representative of the vendors, said the officers acted rudely during the raid. She submitted CCTV footage and mobile phone videos of their behavior to police at Bo Phut Police Station as evidence.
"I couldn't pay the amount of money [police demanded], because the economy is bad at the moment," Patcharee said, referring to the 190,000 baht fee that officers allegedly demanded earlier in the day. "Our profit is small. Nowadays, there's only debt, and I cannot simply quit my business, because I wouldn't be able to find money to pay my rent and other expenses."
CORRECTION: The original article incorrectly stated that

Patcharee Chimthaprasert was the owner of the store that employed Nampueng Moongraiklang. Patcharee owns a separate shop on the island.