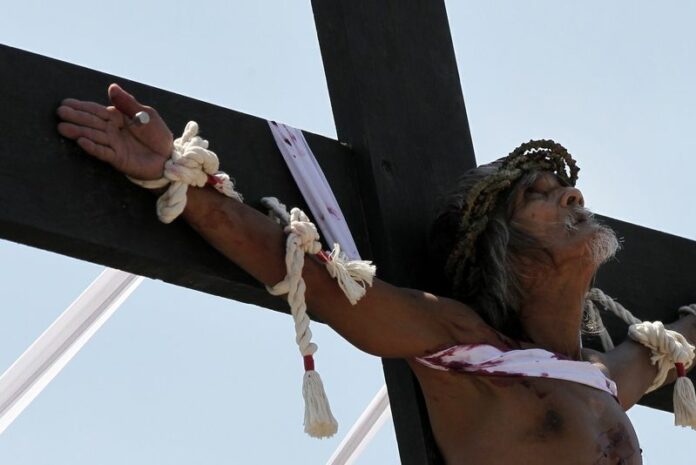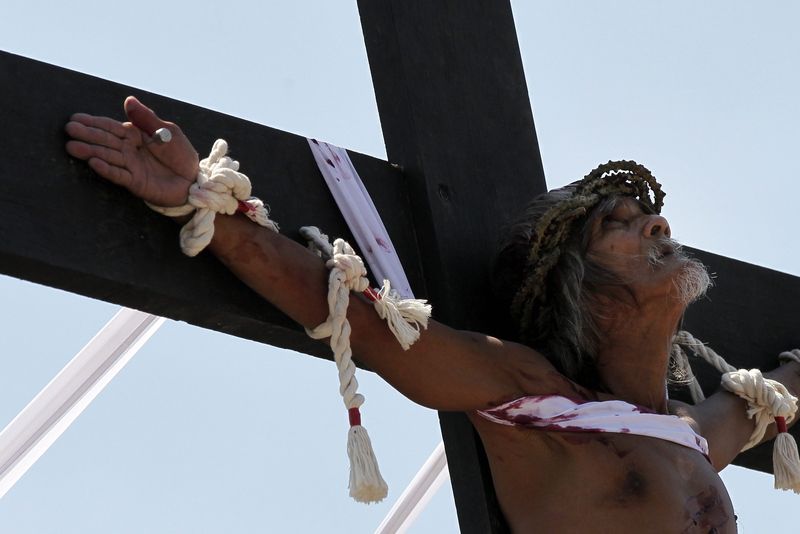 MANILA (DPA) — Thousands of Catholic devotees on Friday trooped to a northern Philippine village where men were nailed to wooden crosses or flogged themselves bloody in annual rituals re-enacting the crucifixion of Jesus Christ.
At least 60,000 spectators witnessed the rituals held under the blistering sun in at least three towns in Pampanga province, 70 kilometres north of Manila, which are the highlight of Easter celebrations in Asia's largest predominantly Catholic country.

A scene of the re-enactment of the crucifixion of Jesus Christ on Good Friday, in San Pedro Cutud village, San Fernando city, north of Manila, Philippines, 03 April 2015. EPA/RITCHIE B. TONGO
Hooded and barefoot penitents walked the streets of San Pedro Cutud village in San Fernando City, the main site of the religious event, whipping their backs with ropes fitted with broken glass or bamboo sticks.
Others carried wooden crosses in a procession before more than 20 were nailed to wooden crosses one by one.
The penitents were led by 54-year-old Ruben Enaje, who was nailed to the cross for the 29th time this year.
"I'm offering this for our country and everyone who needs help," he said. "I'm also praying that this typhoon that supposedly is coming will not bring too much damage and death in the country."
Typhoon Maysak has weakened before it was expected to hit the north-eastern Philippines on the weekend, but authorities warned it could still trigger tidal surges, flashfloods and landslides.
The Catholic Church disapproves of the practice, which began in 1962, but does little to stop the rituals that have become a major tourist draw on Good Friday.
Easter is a major religious event in the Philippines, where more than 80 per cent of the population is Catholic.
Most of the week had been declared public holidays to allow Filipinos to go home to their provinces or take vacations. Government offices, private companies and commercial establishments are closed.