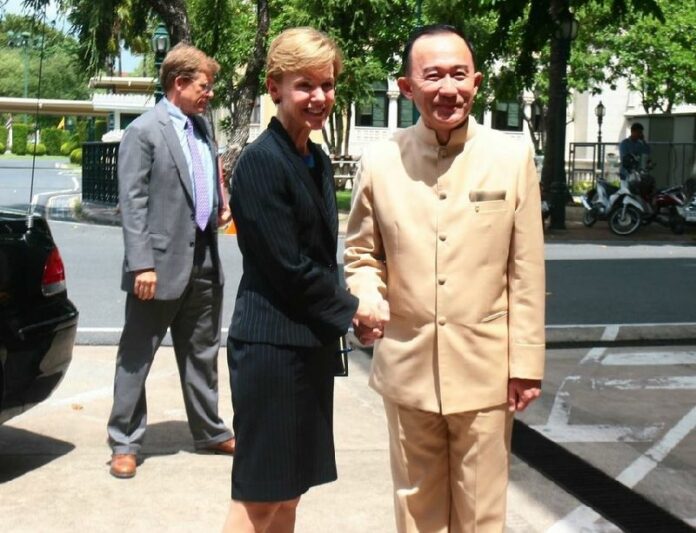 BANGKOK – The Thai government is looking forward to cooperation with the newly-nominated American ambassador, a spokesperson says.
United States President Barack Obama nominated Glyn Davies, the former US special representative for North Korea, as the new ambassador to Thailand over the weekend. His formal appointment is pending an approval by the US Congress.
Thailand has lacked a US ambassador since Kristie Kenney left the position in November. For the past several months, the US diplomatic mission in Bangkok has been led by charge d'affaires W. Patrick Murphy.
A spokesperson for the Ministry of Defense told reporters yesterday that Thailand will be willing to work with the new ambassador, if he is formally appointed, "for the sake of peace in the country and stability in the region."
"I insist that our government is willing to cooperate with every nation. We do not have bias against anyone," said Maj.Gen. Kongcheep Tantrawanich. "Thailand is currently going through an important transition. The Ministry of Defense is working under the policy of the government and upholding interest of the nation."
Thailand and the United States have had a strong alliance for decades, although the US government scaled back diplomatic ties following the military coup d'etat in Thailand on 22 May 2014. The coup was led by then-army chief Gen. Prayuth Chan-ocha, who is now chairman of the ruling military junta and Prime Minister.
A US State Department official said in February that the US will not fully reactivate its military alliance with Thailand until Gen. Prayuth returns the country to democratic rule. The junta says elections will be held in early 2016 after a new constitution has been approved, and if the political climate is deemed stable.
The latest diplomatic row between Thailand and the US occurred in January, when a senior US official called upon the junta to repeal martial law and restore civil rights in a speech at Chulalongkorn University in Bangkok. Thailand's military government called the speech a "disappointing" interference in Thailand's domestic affairs, and summoned the American charge d'affaires in protest.
While relations with Washington have cooled, Thailand's ties with China and Russia appear to be on the rise. Some analysts have speculated that Thailand is seeking to build a "counter-alliance" against the US government, although the junta has consistently dismissed the allegation.
"We want to build trust and cooperation with every country, in order to help us ready to tackle new forms of threats to national security, which need cooperation from every country," Maj.Gen. Kongcheep said yesterday. "We are not anyone's enemy, and we have no enemies. Our defense relationships with every nation have been going well."
He added, "We have a continuous relationship with international superpowers. We have relationship with America for more than 180 years, Russia 118 years, and China 40 years."
Related coverage:
Thailand Not Building Alliances to Counter US, Junta Says
For comments, or corrections to this article please contact: [email protected]
You can also find Khaosod English on Twitter and Facebook
http://twitter.com/KhaosodEnglish
http://www.facebook.com/KhaosodEnglish