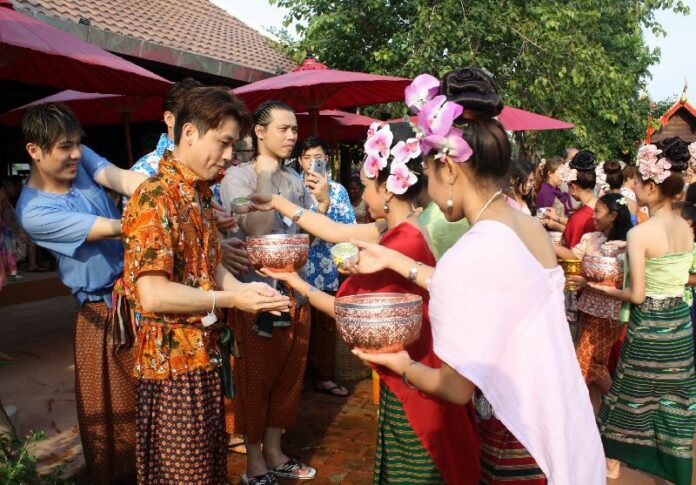 PHAYAO – A Redshirt leader in the northern province of Phayao said he has canceled an annual Thai New Year celebration for local Redshirt activists in order to comply with the junta's ban on political activities.
According to Siriwat Chupamadtha, coordinator of the Redshirt movement in the province, activists traditionally gather during Songkran, the Thai New Year, to perform rod nam dum hua, a ceremony in which younger people pour water on the hands of seniors to show their respect.
But this year's gathering was cancelled due to the "inconvenient" political climate, said Siriwat, who is a leader of Phayao's chapter of the Redshirts' umbrella organization, the United Front of Democracy Against Dictatorship (UDD).
"The government is concerned about peace in the country," Siriwat said. "So I have asked for cooperation from all activist groups to avoid causing unrest, and join the national reform effort to set up rules for our society. We have cancelled all forms of Songkran activities that involve group attendance. We want Redshirts to stay with their families, make merit, and join traditional activities in their respective areas."
The Redshirts are supporters of the elected government that was toppled by then-army chief Gen. Prayuth Chan-ocha in a military coup on 22 May 2014. Since the military takeover, Gen. Prayuth has banned all political activities and protests. Some violators of the ban have been sent to stand trial in the martial court, where military officers serve as judges.
Last week the junta also forced UDD leaders to cancel the annual Buddhist merit-making ceremony dedicated to victims of the military crackdown on Redshirts on 10 April 2010, which killed at least 20 civilians and five soldiers. The ceremony was originally scheduled to take place on the fifth anniversary of the deadly crackdown at Wat Plub Pla Chai Temple, but UDD chairman Jatuporn Prompan eventually called off the event in compliance with the junta's orders. The junta also forbid relatives of the victims from gathering together at the same temple, instructing them to hold private ceremonies at their homes instead.
For comments, or corrections to this article please contact: [email protected]
You can also find Khaosod English on Twitter and Facebook
http://twitter.com/KhaosodEnglish
http://www.facebook.com/KhaosodEnglish