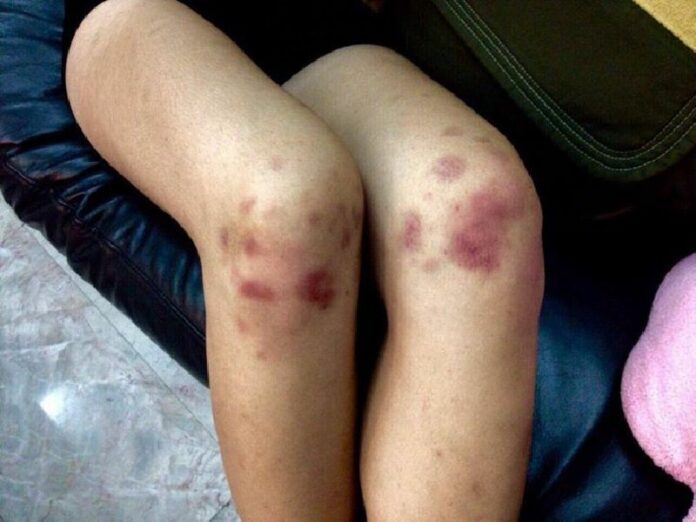 CHIANG MAI — A prominent state university in Chiang Mai province has pledged to take disciplinary action against senior students who forced first years to engage in abusive hazing rituals.
The announcement came after series of photos on social media showed two Chang Mai University freshmen with with bruises on their bodies. The caption said the two women were beaten by senior students in a hazing camp in Nan province.
Thanarak Suwanprapit, deputy dean of Chiang Mai University, said the incident took place between 17 – 19 April, when seniors told the university administration they were organizing a community service trip to paint schools and build a small dam in Nan province. In reality, he said, the senior students were holding an initiation ceremony, known as rub nong in Thai, for freshmen students.
"We are investigating and finding information about the incident," Thanarak said. "We will use it to consider punishment for the senior students."
Thanarak said the students violated a university regulation that requires all initiation ceremonies be observed by school officials in order to prevent any violence or harassment. 
"Punishments for organizing rub nong without approval from the university range from verbal caution, class suspension, and expulsion from the university, in accordance with the disciplinary regulations," said Thanarak.  
He added that the university has informed parents of the victims that the initiation ceremonies were not endorsed in any way by the university.
Rub nong was initially adopted from Western military academies by a handful number of Thai colleges in the early 20th century, but the practice is now common in many universities and schools across Kingdom. While some universities opt for friendly initiation ceremonies, other schools are known for violent and abusive activities that involve assaulting students, forcing them to drink alcohol, and sexual harassment. 
Brutal activities in the name of the rub nong tradition have also led to fatalities. In August 2014, a 16-year-old student from a vocational school in Pathum Thani province died after a night of seaside hazing.
In recent years progressive student activists have campaigned to end rub nong, but defenders of the ritual say it helps promote the ideals of SOTUS – Seniority, Order, Tradition, Unity, and Spirit – among new students.