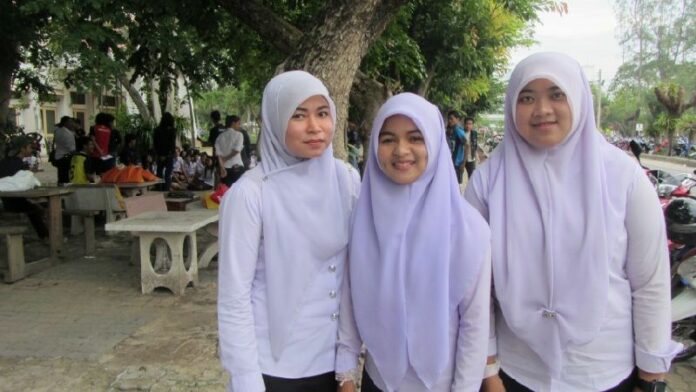 BANGKOK — The director of a public school in southern Thailand has been transferred from her post after barring Muslim students from wearing hijabs in school, a government official said today.
The director of Baan Nai Yong School, Wisutsri Yungpongsapat, had claimed that the traditional Islamic head coverings violated state regulations for student uniforms.
Yet according to sec-gen of the Office of the Basic Education Commission (OBEC), state regulations allow Muslim students to wear hijabs in public schools, as long as the cloth is a plain color, not longer than 120 cm in length, and pinned together under the chin of the wearer.
"I believe that director of the school was new in her post, so she did not have understanding about identity, so she imposed the ban, and caused protests in the area," the OBEC sec-gen, Kamol Rodklai, told reporters yesterday.
Baan Nai Yong School is located in Phang Nga province in southern Thailand, where Muslims make up a sizable portion of the population in contrast to the rest of the Buddhist-dominated country.
Kamol said the school director has been transferred and the ban, which drew protests from local Muslim residents and activists, has been repealed.
In an interview last week with White News, a Thai TV channel focused on issues related to Islam, Witsutri said the ban was necessary to prevent "divisions" at the school.
"Muslim children can veil their heads at home. When they are at school, they have to obey the school regulations," Wisutsri was quoted as saying by White News. "Don't bring divisions to my school. Nowadays, there's already problem in the three southern provinces, isn't that enough?"
Wisutsri was referring to the decade-long insurgency in Pattani, Yala, and Narathiwat – a region known as the Deep South – where militants have been battling with security officers to form a breakaway Islamic state. More than 6,200 people have been killed in the Deep South since the separatist violence broke out in early 2004.
Waedueramae Mamingi, director of the Central Islamic Committee of Thailand (CICOT) in Pattani, told Khaosod he has been discussing the hijab ban with state officials in Phang Ngao province. Waedueramae said he hoped other school directors will understand that such a ban is unacceptable and violates both state regulations and the Islamic faith.
"You cannot force Muslim students not to wear the hijab, because the doctrine of Islam commands all Muslim women who are above 7 year old to wear the hijab," Waedueramae said. "There is no exception. In schools, women must wear hijabs. If they do not do so, it's a sin."
On 20 April, junta chairman and Prime Minister Prayuth Chan-ocha said public schools in the south should not impose rules that encroach on the identity of local Muslims, though he expressed concern that wearing a niqab, a veil that covers most or all of the face, may affect public security.
"Veiling that hides the face and the eyes may sometimes have an impact on security. You have to understand that," said Gen. Prayuth, who came to power in the May 2014 military coup. "In the past, there were incidents of perpetrators harming security officers by disguising themselves as women wearing face veils. Sometimes, men covered their faces like that. You have to sympathize with the security officers."
Related coverage:
Buddhists Protest Mosque Construction in Northern Thailand