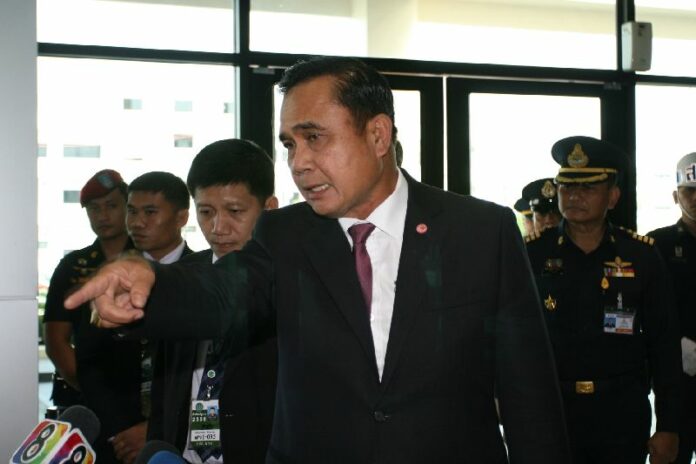 BANGKOK — Junta chairman and Prime Minister Prayuth Chan-ocha expressed resistance to postponing the election scheduled for early next year, citing the time frame outlined in the interim constitution.
Gen. Prayuth's remark came after politicians from across the political spectrum called for a delaying the poll in order to change what they see as a flawed charter, which was drafted by a junta-appointed council.

Gen. Prayuth Chan-ocha at the Air Force Base in Bangkok, 26 April 2015.
"Who said that? What power do politicians have to do that?" Gen. Prayuth quipped at a reporter who asked him to comment on the issue yesterday, "What does the Constitution say?"
Answering his own question, Prayuth continued, "The [interim] constitution has already been written … this is my road map. We have 60 days, 90 days, it has to be like that. If it can be different, find me a way. How can I amend that?"
According to the time frame outlined in the junta's interim charter, the draft of the new constitution must be finished in early August. The junta has said it will promulgate the new charter – Thailand's 20th – by 4 September and hold a new election 150 days afterwards, estimated to be in February 2016.
The charter draft was written by the Constitution Drafting Committee (CDC), whose members were chosen by the junta last year. The draft is currently under deliberation by the National Reform Council (NRC), another junta-appointed body.
Last week, Jatuporn Prompan, leader of the Redshirt movement's official umbrella organization, called for postponing the election in order to address the new charter's "undemocratic" nature, including a clause that allows MPs to appoint an unelected Prime Minister, the establishment of an unelected Senate, and the establishment of powerful unelected "independent" agencies.
"Do not be afraid that a delayed election will damage the country," Jatuporn wrote on his official Facebook account. "Be afraid that a quick election under undemocratic rules will cause far more damages, in an unmatched way. We all wish to see a good, correct, and fair constitution, with rights and liberty that will lead to equality and fraternity that will take place in this society."
Other politicians from Thailand's both primary parties, Pheu Thai and Democrat, also urged postponing the election.
In the press conference yesterday, Gen. Prayuth also spoke about other issues, including:
Media freedom
"The media has to write well. I will keep my eyes on what you write. You understand when I talk to you, but when you write, it turns out to be something different. I circle so many passages from newspapers when I am in the car. You are all geniuses. You suggest that I fix this issue and that issue. What kind of [professional] background do you have? I ask you. Those people who criticize me, have you ever done anything successful? Or you are only at good working for newspapers, since you were a baby, until you are old? You keep criticizing the government harshly. But this is a government that seized power. Don't criticize me like I'm a normal government. You cannot. We do everything for you. We fix everything. But you still criticize me. What the hell is matter with you? Am I being too kind? I don't know."
Decentralization
"Can [decentralization] be done? Today, we have decentralized a lot. We have PAOs [Provincial Administrative Organizations], we have SAOs [Subdistrict Administrative Organizations]. We have good ones and bad ones. Today, you may not want Governors, that's okay, but on that day, the country will be divided and there will be a war. Believe me, that will happen if you keep thinking like that. If you are ready, I'm fine with it. You may want something like the United States of America. But ask them how far apart each district, subdistrict, village, and state is to each other. It takes 5-6 hours on a plane ride. Is Thailand that far apart? Today we have DLA [Department of Local Administration], we have Municipal Offices. They are already good. It's just we need to improve their quality and rearrange works. What will people have? Where will be the budget come from? Today you say you want decentralization, but even without decentralization, things are a mess already. How far do you want it to be decentralized?"
The new background for his weekly TV show

Gen. Prayuth used a new background for his weekly television show on 24 April 2015.
"I want to convey a message that forests are beautiful. Thailand should preserve its forests. Think, think! I want people to see that Thailand has beautiful forests, that we have an orderly society. Or do you want me to use something bad for the background? Do you want that?"