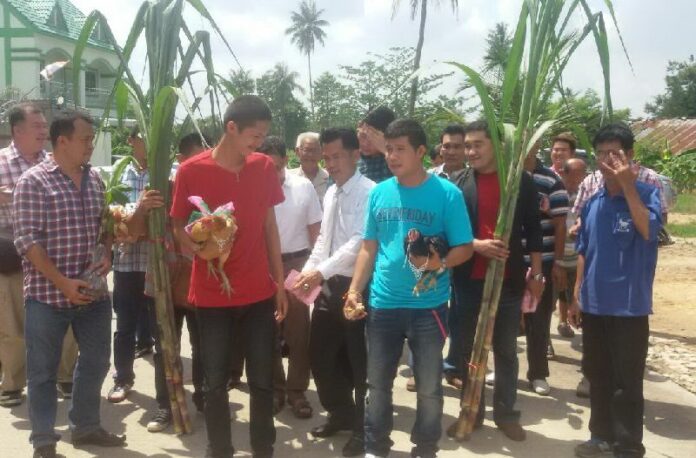 CHONBURI — A rooster and a hen tied the knot in Chonburi province today, a union that their owners hope will produce talented birds for cockfighting tournaments.
The wedding, which took place in a village in Ban Bueng district this morning, was modeled after a traditional Thai wedding with monks' prayer, wedding parade, and dowry.
The "groom," a rooster called Yod Makham, is an experienced gamecock that has never lost a match, said his owner, Weerachai Charunet. Weerachai, 54, estimated that Yod Makham is worth at least one million baht.
Saman Thongkam, the owner of the hen, said he spent months trying to convince Weerachai to agree to the marriage after he saw how skillfully Yod Makham beat one of his roosters in a competition. "In that match, mine was defeated in both scores and punches. It was a complete defeat," Saman told reporters. Weerachai eventually conceded, and received 300,000 baht in cash as dowry from Saman at the ceremony today.
According to an agreement reached by the two men, Yod Makham will live with the hen, named Daeng Kyushu, in Nakhon Pathom province until the two produce offspring, estimated to be four to five months from now. Afterward, Yod Makham will be returmed to Weerachai.
"I want to develop better breed for gamecocks in our country," said Saman.
Cockfighting is a popular sport and lucrative industry in Thailand, though it has attracted criticism from animal rights advocates in recent years. The game is exempted from the animal cruelty law that was passed last November. Betting on cockfights is illegal, but the law is weakly enforced.
CORRECTION: The rooster and hen did not compete in a cockfighting match as was originally reported.