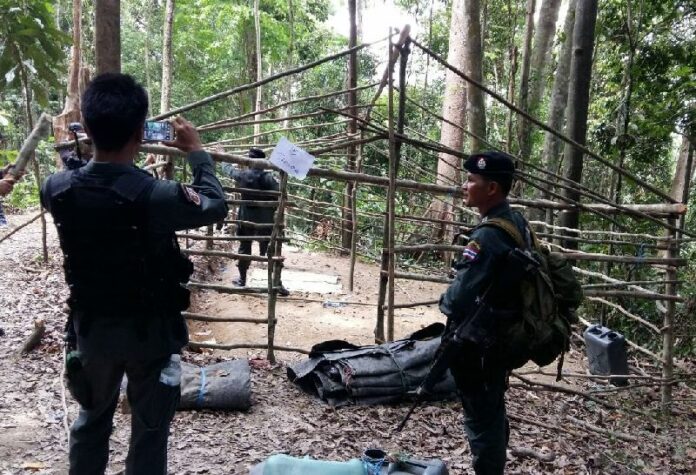 SONGKHLA — Thai security forces in southern Thailand have uncovered two more abandoned camps they believe were used by human traffickers to detain Rohingya refugees.
The discovery came several days after police discovered 26 corpses buried near a suspected detention site close to the Thai-Malaysian border in Songkhla province. The camp, located deep in the jungle, consisted of makeshift wooden huts, fences, a watch tower, and the mass grave of Rohingya bodies.
Police believe the camp was used by human traffickers to detain Rohingya refugees who entered Thailand illegally and demand ransom money from their relatives.

Security officers dismantle a hut at the second suspected detention site found in Songkhla province, 5 May 2015.
Two more abandoned campsites were found yesterday, said Pol.Lt.Gen. Prawut Thawornsiri, spokesperson of the Royal Thai Police.
One camp, consisting of several wooden shelters, two kitchen areas, and five grave sites, was found approximately one kilometer away from the first site in Padang Besar subdistrict. Police said the camp's occupants appeared to have fled shortly before the officers arrived, citing evidence of recent cooking at the site.
"This Rohingya camp appears to be a 'transit' camp," said Pol.Lt.Gen. Prawut. "I expect that we will find more Rohingya camps."
A third, smaller site consisting of one large hut was also found nearby. No bodies were found at the two new sites.
Police also encountered one Rohingya woman and two children in the area, who they believe were survivors of the camps. The woman and children were found in a state of exhaustion and are being treated at a nearby hospital, police say.
Separately in nearby Phang Nga province, local officials reported discovering four bodies buried in makeshift graves approximately one kilometer from the sea. The bodies have been sent for forensic testing to determine whether they are Rohingya people, an ethnic Muslim minority from Myanmar.
Five suspects in custody
Police arrested three Thai officials and one Burmese man on 4 May in connection with the suspected trafficking operation. The three Thais were identified as Amsan Intanu, 48, Roe Sonyalae, 41, and Arlee Lamoh, 47. According to police, Amsan is an official at Padang Besar's municipal office, and Roe and Arlee are local deputy village chiefs.
The fourth suspect, So Niang Anu, 40, was identified by police as a "Burmese national," but Reuters reported he is a Rohingya. The four men have been charged with human trafficking, illegal detention, and holding people for ransom.
Pol.Lt.Gen. Prawut said a fifth suspect, village chief Arlee Krem, surrendered to police yesterday. Police are still looking for three more suspects.
"Right now we are investigating the routes of the operation," Pol.Lt.Gen. Prawut said. "We will close all these routes. We are also coordinating with Malaysian authorities about lists of people who have crossed into Thailand."
The wife of Arlee Lamoh, one of deputy village chiefs arrested following the discovery of the first camp, told reporters her husband is innocent.
"My husband is not involved in this," said Kodiyah Lamoh, who described her husband as an honest official who also works in a rubber orchard to help pay her family's debt.
"The allegation has caused so much damage to my family," she continued. "Villagers now think that my husband is a bad man. I want justice for my family. If my husband is arrested and prosecuted, how can I find money to help my three children go to school?"
Junta vows tough crackdown
The Rohingyas are a Muslim people that hail from the Rakhine state of Myanmar, where they have faced persecution from the region's Buddhist majority.
As a result of ethnic and religious violence, tens of thousands Rohingyas have crossed illegally into Thai territories, often in an effort to reach Muslim-majority Malaysia. Some Rohingya refugees have been intercepted by human traffickers and held at detention camps for ransom, or sold as slaves onto Thai fishing boats. For years, Thai authorities have largely turned a blind eye.
Last June, the United States government downgraded Thailand to the lowest rank in its annual Trafficking In Persons (TIP) report for failing to meet the minimum standards to combat trafficking. Thailand's military government, which came to power in a coup d'etat a month prior to the downgrade, has made eradicating human smuggling a national priority.
Yesterday, a spokesperson of the military government said the junta will not spare any official who is involved in human trafficking operations.
"All administrative agencies in all levels – village, tambon, and district – have been instructed to closely monitor every square inch of their jurisdiction," said Maj.Gen. Sansern Kaewkamnerd. "If they neglect their duty and allow detention of victims of human trafficking, or give assistance and shelter to the traffickers, they will be held responsible."
He continued, "As for officials who collect bribes or have interest in the crime, they will be punished both by disciplinary and legal actions."