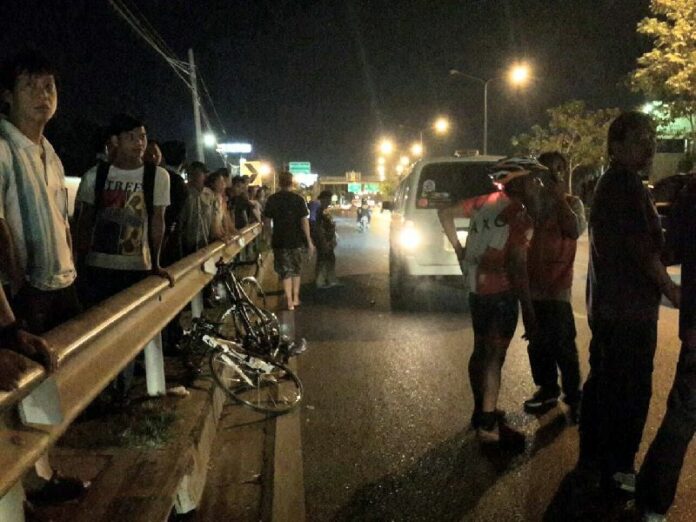 BANGKOK — Police say the car that crashed into a group of cyclists and killed one woman in Bangkok on Monday night was reported stolen by its previous owner, and that the driver behind the hit-and-run provided a fake name to medical staff before fleeing.
The crash took place on Ratchada-Ramintra Road in Kannayao district at around 8.30 pm on 4 May, killing one 31-year-old woman and injuring several others. The driver, described by witnesses as "young man," was taken to the hospital by rescue workers and left before speaking with police.
The motorist reportedly identified himself to medical staff as Saran Intanond, 23, but police say the name does not exist in the national database.
The car involved in the crash was also reported stolen on 17 March, said Pol.Col. Kittichet Sakkayaphabwichanond, commander of Kokkram Police Station. The sister of the car's previous owner met with police yesterday and said she and her brother did not have any connection to the incident.
Five bicyclists were killed on Thai roads in the past week alone. On 3 May, three cyclists were run over and killed by a 23-year-old university student in Chiang Mai province whose blood alcohol content exceeded the legal limit. On 5 May a bicyclist died in Ayutthaya province after a truck crashed into a roadside billboard, causing the structure to fall and crush the 63-year-old man.
Earlier this week, junta chairman and Prime Minister Prayuth Chan-ocha ordered police to crack down on drunk driving – a common cause of road accidents in Thailand – and asked drivers to share the roads with bicyclists.
"Gen. Prayuth also extends his condolence to families and friends of the dead and injured," a government spokesperson said on 4 May. "He has urged traffic commuters to be compassionate and drive carefully, and to share the roads with bicyclists, which are increasing in number every year."
Pol.Lt.Gen. Prawut Thawornsiri, spokesperson of the Royal Thai Police, said police will increase road checkpoints to track drunk drivers.
"Usually, checkpoints will stop at around 2 – 3 am," Pol.Lt.Gen. Prawut said. "If drunk drivers emerge after that, they will be able to escape. From now on, we will expand checkpoints to cover the entire 24 hour period."
He also suggested the government increase the penalty for DUI and allow police to suspend drivers' license for up to six months, or even revoke them permanently.