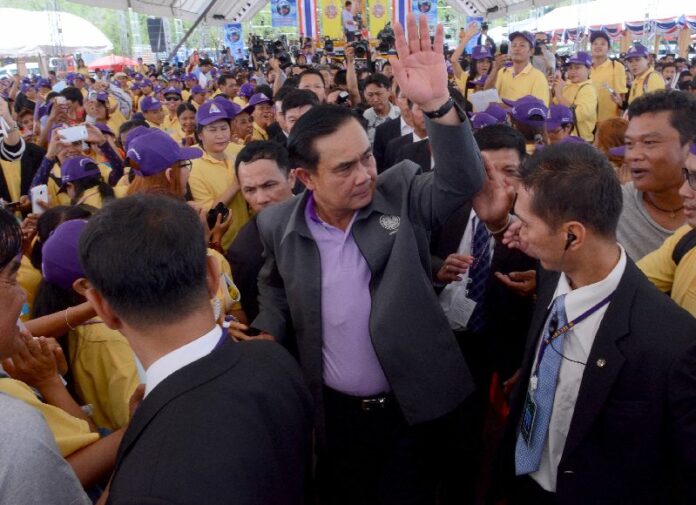 SURAT THANI — The leader of the street protests that paved the way for the May 2014 coup has praised Thailand's military leader and welcomed him to stay in power for up to five more years.
Speaking to reporters today, Suthep Thaugsuban described junta chairman Gen. Prayuth Chan-ocha as an ideal Prime Minister because he solves problems "without seeking personal gain."
"If Gen. Prayuth can stay and keep solving problems and making this country and the livelihood of the people better, he can stay for three years or five years," Suthep said. "We should not only try to have what looks cool."
Gen. Prayuth stepped in and seized power from an elected government on 22 May 2014 after mass anti-government protests led by Suthep had paralyzed parts of Bangkok for six months.
Suthep, a veteran Democrat Party politician and former deputy Prime Minister, maintained a high profile as the leader of the movement, which aimed to oust then-Prime Minister Yingluck Shinawatra and suspend democracy in Thailand to undergo a national reform effort. The junta has largely adopted the protesters' platform by postponing national elections and appointing various committees to pen a new constitution and enact a wide range of reforms.
After the coup, Suthep joined the monkhood and has largely stayed out of the spotlight. Speaking to reporters today, he said he had no plans to return to politics.
"Today, I am not a politician anymore," said Suthep, whose monk name is Phra Suthep Paphakaro. "I resigned from the Democrat Party, and I will not run in any election again."
He also dismissed calls from politicians and pro-democracy activists to organize a referendum for the junta's new charter.
"If the constitution is good and appropriate for Thailand, if it's designed to fit the body like a shirt that fits Thai people and makes them handsome, then there is no need for a referendum," Suthep told reporters at his monastery today.
Critics have slammed the charter's anti-democratic features, such as a clause that allows MPs to appoint an unelected Prime Minister, the establishment of an unelected Senate, and the creation of various unelected "independent" watchdog agencies and reform councils.
The junta has not yet said whether a referendum will be held for the new charter, which is expected to be formally promulgated by September this year and followed by national elections in February 2016 at the earliest.