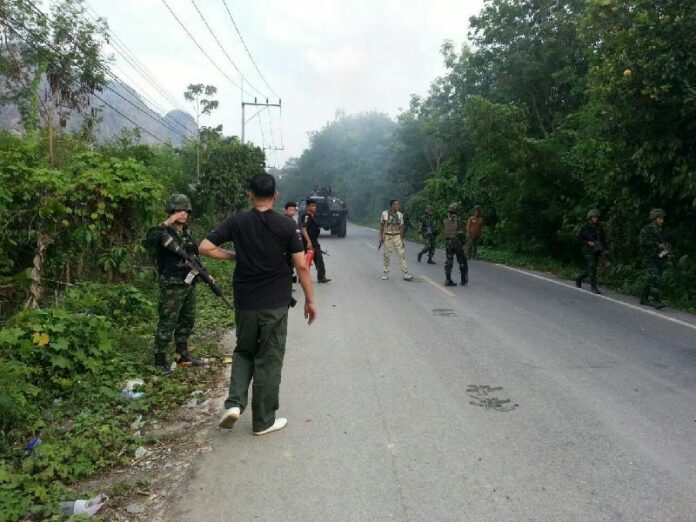 BANGKOK — Thai authorities have condemned the killing and burning of a married couple in the southern border province of Yala yesterday, an attack that was attributed to local Islamic separatists.
Sanpetch Kanchanapetch, 42, and Nopparat Kanchanapetch, 37, were shot dead in their pick-up truck on a road in Bannang Sata district yesterday evening. The gunmen also set fire to their vehicle and fled the scene before security officers arrived, police say.
Police believe the attack was committed by local Islamic militants waging a bloody separatist campaign against security forces and Buddhist civilians in the region. A shadowy network of insurgent groups has launched regular attacks since 2004 in an effort to secede Yala and its two neighboring provinces, Narathiwat and Pattani. At least 6,200 people have died in the violence, according to data compiled by human rights groups.
Col. Pramote Prom-in, spokesperson of the Internal Security Operation Command (ISOC), condemned the killings and expressed his condolences to families of the victims.
"The perpetrators are still displaying extremist behavior, committing terrorist acts, and disregarding humanitarian principles," Col. Pramote said. "Apart from violating the laws and human rights principles, such action also gravely violates teachings in the religion of Islam."
The colonel also told reporters that authorities are collecting evidence to identify and arrest the perpetrators.
"The Internal Security Operation Command would like to ask all sectors of the society, especially organizations that campaign for justice in the region, to come out and join hands in condemning the perpetrators in this incident," said Col. Pramote.
Yesterday, an NGO called Buddhists Network for Peace issued a statement condemning the attack as an "inhumane and cruel act." The statement also urged authorities to swiftly bring those responsible to justice, and called on the armed militants to stop targeting "vulnerable" targets.
While the vast majority of Thailand is Buddhist, the three southern border provinces are dominated by Malay Muslims who speak a distinct dialect and trace their ancestry back to the sultanate of Patani, which was annexed by Thailand in early 20th century.