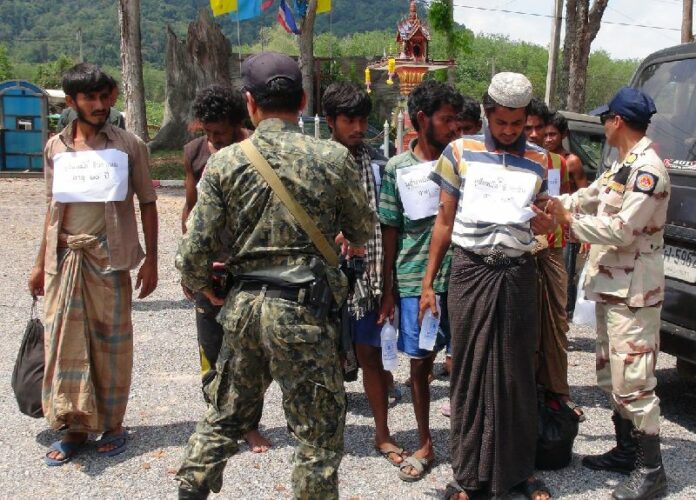 SONGKHLA — Police say they have rescued 30 Rohingya refugees who were reportedly abandoned by smugglers and forced to fend for themselves in the jungle for five days.
According to police, 17 Rohingyas were found yesterday in Songkhla province by local residents who alerted the authorities. Thirteen more Rohingya men were found and rescued by security officers today.

Stranded Rohingya men discovered by police in Hat Yai, 7 May 2015.
A police officer said the group was found wandering in the forest near Thaug Khao Kaew mountain in Hat Yai district.
"The Rohingyas told us via interpreter that they spent 20 days sailing from Myanmar on a boat," the officer told reporters. "Five days ago – they couldn't remember where – a smaller boat picked them up from the large boat and left them stranded on land. They had to walk in the jungle for five days before they found Thai people."
The refugees are currently being held at Thoong Tam Sao Police Station. Officials from the Ministry of Social Development and Human Security will investigate whether the Rohingyas were victims of human trafficking, police said.
Police also found at least 30 recently-dug graves in Hat Yai district today. Local villagers reportedly told police the site was an old cemetery that had not been used for decades, but that 30 of the grave sites appeared to be fresh.
Several kilometers away, police also discovered remnants of a small camp site, consisting of tarps, clothes, and wooden huts. Police say they believe the camp was used to house Rohingya refugees en route to the Malaysian border.
Thai officers have discovered several abandoned jungle camps over the past week in Songkhla's Padang Besar district. The sites are believed to have been used by human traffickers to hold Rohingya refugees for ransom. Mass graves and at least 30 corpses have been found near the camp sites, which are located deep in the jungle near the Thai – Malaysian border.
The police have issued a total of 18 arrest warrants in connection with the detention camps and trafficking network. The suspects include police officers and local administrative officials. Six people have been arrested so far.
The sixth suspect, Prasit Lemlae, deputy mayor of Padang Besar, surrendered himself to police today. He has been charged with human trafficking, illegal detention, and demanding ransom.
More than 50 police officers in southern Thailand have also been transferred from their posts following the discovery of the abandoned camp sites.
The world's 'most persecuted' people
The Rohingyas are a Muslim ethnic group that hails from the Rakhine state of Myanmar and is considered one of the world's "most persecuted" minorities by the United Nations.
Since 2012, tens of thousands of Rohingyas have fled ethnic and religious violence in Buddhist-majority Myanmar, where they are denied citizenship. Many refugees headed for Muslim-friendly Malaysia have been exploited by human traffickers and held in Thai detention camps for ransom, or sold as slaves. For years, Thai authorities have largely turned a blind eye to the practice.
Last June, the United States government downgraded Thailand to the lowest rank in its annual Trafficking In Persons (TIP) report for failing to meet the minimum standards to combat trafficking.
Thailand's military government, which came to power a month before the downgrade, has said that eradicating human trafficking is national priority.